From the April 8, 1933, issue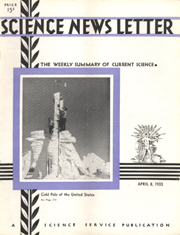 MT. WASHINGTON COLDER THAN THE ANTARCTIC
Rigor of winter at the summit of Mt. Washington is graphically pictured on the cover of this week's Science News Letter. As early as October 15 of last year, when this picture was taken by Harold Orne of Melrose Highlands, Mass., ice and snow has wrought curious shapes upon the rocks, the house and cog-railroad trestle of the mountain top. The picture shows observers examining instruments mounted on the end of the trestle.
Science News headlines, in your inbox
Headlines and summaries of the latest Science News articles, delivered to your email inbox every Thursday.
Thank you for signing up!
There was a problem signing you up.
ENERGY TURNED INTO MASS FOR FIRST TIME IN HISTORY
Subscribe to Science News
Get great science journalism, from the most trusted source, delivered to your doorstep.
For the first time in all history, physicists seem to have discovered a case of energy turning into mass, that is, nonmaterial "push and shove" being converted into something material that can be weighed, as it were.
Dr. Kenneth T. Bainbridge, fellow of the Franklin Institute's Bartol Research Foundation and authority on the masses of atoms, explains that when lithium is bombarded with the heart of a helium atom, energy may be converted into mass.
The experiments were made by Mme. Irene Curie-Joliot, daughter of the discoverers of radium, her husband, Dr. F. Joliot, and P. Savel at the Institute de Radium in Paris last year.
When a lithium atom of mass 7 is hit by and captures an alpha particle, or helium-atom heart, there is strong indication of the transfer of kinetic energy of the impinging alpha particle into what the physicists call "inertial mass." This creates an atom of boron of mass 10. This isotope of boron is one of the experimental products of lithium's disintegration.
The mass of lithium 7, measured in 1925 by J.L. Costa, was essential in determining the apparent change if energy into mass.
BACTERIA REPLACE YEAST TO MAKE ANCIENT SACRED DRINK
Beer made by the fermentive action of a special bacterial culture instead of the customary yeast, and drunk bacteria and all, is an excellent remedy for disorders of the digestive organs as well as a palatable drink. So states Prof. Paul Lindner of the Berlin Agricultural College, who made the discovery in the course of an endeavor to determine the identity of "soma," the sacred drink of the ancient Persians and Indians. Prof. Lindner's preliminary report is given in the German scientific weekly Forschungen und Fortschritte.