From the August 12, 1933, issue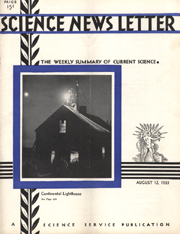 CONTINENTAL LIGHTHOUSE
This is a moonlight photograph of the 400-watt electric lamp on the top of Mt. Washington. When flashed recently in visibility tests conducted by the Mt. Washington Polar Year observers, it was noticed as far away as Boothbay Harbor, Maine, 95 miles distant, and at many other points in New England.
Current for the light was supplied by a portable gasoline power plant.
Subscribe to Science News
Get great science journalism, from the most trusted source, delivered to your doorstep.
FAST-MOVING POSITIVE PARTICLES PRODUCE NEW KIND OF X-RAYS
Science News headlines, in your inbox
Headlines and summaries of the latest Science News articles, delivered to your email inbox every Thursday.
Thank you for signing up!
There was a problem signing you up.
Positive X-rays can now be produced at a million volts instead of the few thousand necessary for ordinary or "negative" X-rays.
Positive X-rays are produced in a vacuum by the impact of positively charged ions, or atoms that have lost an electron, on a metal target; whereas negative X-rays, found by Roentgen in 1895, are produced by fast electrons.
Dr. W.M. Coates and Prof. E.O. Lawrence of the University of California have stepped up mercury-positive ions to 1,000,000 volts and on allowing them to strike targets of various elements have observed that real X-rays are given off.
THYROID REMOVAL GIVES RELIEF TO HEART DISEASE SUFFERERS
Complete removal of the normal thyroid gland is a new method used by a group of physicians and surgeons in Boston to relieve certain types of heart disease. In 11 of 13 cases the results so far have been successful.
The method has been used in cases of congestive heart failure and dreaded angina pectoris. It was devised by Drs. H.L. Blumgart, S.A. Levine, and D.D. Berlin of Boston, Mass. The theory of the operation is to lessen the load of the overworked heart or weakened arteries in pumping and carrying the mass of blood to the tissues. The amount of work the heart must do depends primarily on the call of the tissues all over the body for oxygen. This in turn is governed by the thyroid gland, which determines the rate at which body processes requiring oxygen go on.