From the August 20, 1932, issue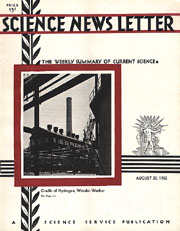 HYDROGEN REMAKES PETROLEUM INTO MORE USEFUL PRODUCTS
Hydrogen, lightest of the elements, is a wonder-worker in industrial chemistry. The pushing of more hydrogen into substances, called hydrogenation, makes fluid vegetable oils into synthetic hard fats, carbon monoxide into useful methanol or "wood alcohol," coal into lubricating oil and gasoline, and poor lubricating oil into superior lubricant.
The marketing of a synthetic lubricating oil, remade from indifferent crude oil by a process of hydrogenation, by the Standard Oil Company of New Jersey, signals the successful application of hydrogenation to the oil industry in America.
Science News headlines, in your inbox
Headlines and summaries of the latest Science News articles, delivered to your email inbox every Thursday.
Thank you for signing up!
There was a problem signing you up.
This week's cover features a striking view of a hydrogen plant framed in a maze of overhead piping. Refinery cracking coil gas is treated to obtain the pure hydrogen with which to build up the molecules of heavy oil.
Subscribe to Science News
Get great science journalism, from the most trusted source, delivered to your doorstep.
FINDS CHILDREN DO NOT PREFER PARENT OF THE OPPOSITE SEX
The Freudian theory that all children tend to prefer the parent of the opposite sex failed confirmation in a study conducted by Dr. John E. Anderson, of the University of Minnesota, he announced in a report to the Southern Society for Philosophy and Psychology published in the Psychological Bulletin.
Dr. Anderson sent questionnaires to the parents of 3,178 children, of whom 1,626 were boys. They revealed that there are no outstanding sex differences at any age level in attachment for parents. About half of both girls and boys have no favorites in the household. Of the others, there is a slight tendency for both boys and girls to prefer the mother; this tendency decreases with age. Jealousy is displayed more often when the mother shows affection to another child than under any other circumstances. Jealousy decreases with age and is somewhat more likely to be present in girls than in boys.
COSMIC RAY STUDY IS FIRST IN IMPORTANCE FOR PICCARD
The most important observations to be made by Prof. Auguste Piccard in his second ascent to the stratosphere will be measurements of the cosmic rays, which are also being given intensive recordings in all parts of the world by American scientists.
Scientists are not greatly excited over the possibility of a new manned balloon record being set in the event that the shining white aluminum gondola carries its human freight farther from Earth than any instrument has transported men. Neither are they vitally interested in the records of temperature, pressure, or other properties of the upper atmosphere that Prof. Piccard and his assistant will undoubtedly make.
The cosmic ray measurements that will interest scientists most will be made with an electroscope within the aluminum gondola. The measurements when compared with those being made under the direction of Prof. Arthur H. Compton of the University of Chicago this summer may throw light on the mystery of the cosmic rays.