From the August 25, 1934, issue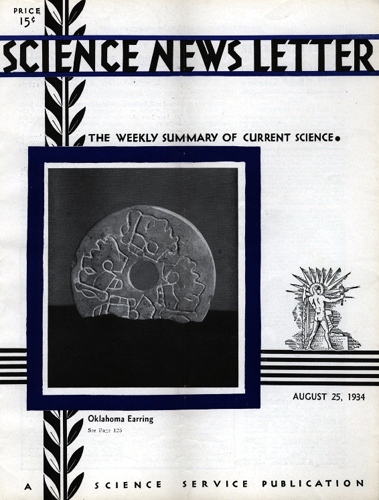 OKLAHOMA'S MOUND BUILDERS WORE FANCY STONE EARRINGS
Some of the costume jewelry worn in ancient America was amusing stuff.
From eastern Oklahoma comes a stone earplug made by an Indian jeweler with interesting ideas of design. The plug, unfortunately broken, is ringed with a mazelike pattern of lines. Once you see it the right way, there is a series of Indian profiles in the puzzle picture.
The plug is from one of the mounds recently explored by Forrest E. Clements of the University of Oklahoma. The mounds revealed copper blades, well-made cloth, and other signs showing that a high Mound Builder culture flourished in Oklahoma.
Science News headlines, in your inbox
Headlines and summaries of the latest Science News articles, delivered to your email inbox every Thursday.
Thank you for signing up!
There was a problem signing you up.
BATHYSPHERE RECORD SET AT 3028 FEET UNDER SEA
Subscribe to Science News
Get great science journalism, from the most trusted source, delivered to your doorstep.
William Beebe and Otis Barton established a new "low" for personal deep-sea exploration when their bathysphere descended to a depth of 3,028 feet beneath the surface of the sea off the shores of Bermuda on Wednesday, Aug. 15.
With this "deep down divin'est" record, exceeding the half-mile dive they had set as their goal, the two men announced themselves as content. They will now make a series of bathysphere descents to shallower levels, to study marine life "at home."
GAMMA RAYS SPLIT APART HEAVY HYDROGEN ATOMS
Gamma rays, the same kind of radiation used medically for the treatment of cancer, are now being employed to produce artificial disintegration of atoms of the "heavy" hydrogen isotope deuterium. The atom breakup achieved throws new light on the composition of the newly discovered "heavyweight" kind of hydrogen.
Prof. James Chadwick and Dr. M. Goldhaber of Cambridge University report to Nature that by bombarding diplons (deuterium atoms that have lost an electron and become ionized) with gamma rays having energies of 2,620,000 volts they have produced ordinary lightweight hydrogen atoms and neutrons.
Diplons are known in America as deutons. They are much used as particles with which to bombard other substances and so cause disintegration. As ionized atoms of deuterium, diplons have twice the weight of ordinary hydrogen atoms.
Drs. Chadwick and Goldhaber indicate that to break down the diplons into their two constituent parts the bombarding gamma rays must have energies greater than the forces that normally hold the particles together. This condition is satisfied with gamma rays of 2,620,000 electron-volts energy.