From the August 6, 1932, issue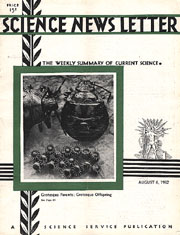 WEIRD STINK-BUG PARENTS PRODUCE CURIOUS EGGS
"Like parent, like child," is one of the oldest and best-known folk-proverbs. It holds outside the human realm, too. For instance, the pair of stink-bugs which Cornelia Clarke's magnifying camera lens caught for the cover of this issue of the Science News Letter are weird enough little monsters, in all conscience; and their cluster of eggs, each crowned with its little circlet of bristles, are just as odd in their own way.
Science News headlines, in your inbox
Headlines and summaries of the latest Science News articles, delivered to your email inbox every Thursday.
Thank you for signing up!
There was a problem signing you up.
WAR IS NOT HUMAN INSTINCT PROMINENT PSYCHOLOGISTS HOLD
Subscribe to Science News
Get great science journalism, from the most trusted source, delivered to your doorstep.
War is not instinctive and ineradicable.
By a vote of 346 to 10 the members of the American Psychological Association, those scientists primarily concerned with laws governing human behavior, have registered their opposition to the doctrine advanced by some soldiers, lawmakers, journalists, economists, and historians that war is a part of human nature and cannot be stopped.
The vote on the traditional doctrine concerning man's war-making instinct was conducted by Prof. John M. Fletcher of Tulane University, New Orleans. His questionnaire asked:
"Do you as a psychologist hold that there are present in human nature ineradicable, instinctive factors that make war between nations inevitable?"
The 528 members of the association were polled to obtain "a sort of official expression of opinion by psychologists." Seventy per cent, or 378, voted. The result was: "No," 346; "Yes," 10; unclassified, 22."
RAPID EVOLUTION PRODUCES NEW INSECT SPECIES ALMOST DAILY
New species are appearing almost every day. Evolution is slow but in creatures that have many generations a year, it may seem rapid in comparison.
So said Dr. Paul Marchal, eminent French scientist, in his address as president of the Fifth International Congress of Entomology in Paris. He showed the enormous advance in general biology that has been made since the first International Congress of Entomology was held at Brussels in 1910.
Students of genetics have seized upon the little flies known as Drosophila as the most available form for study, and the T.H. Morgan school of geneticists has grown up from their labor. A Drosophila has 25 generations in a year. It would take the higher animals scores of years to pass through as many generations. Species are in the making all the time.