U.S. pauses J&J vaccine rollout after 6 people of 6.8 million get rare blood clots
AstraZeneca's vaccine has also been linked to the rare clots in Europe and the U.K.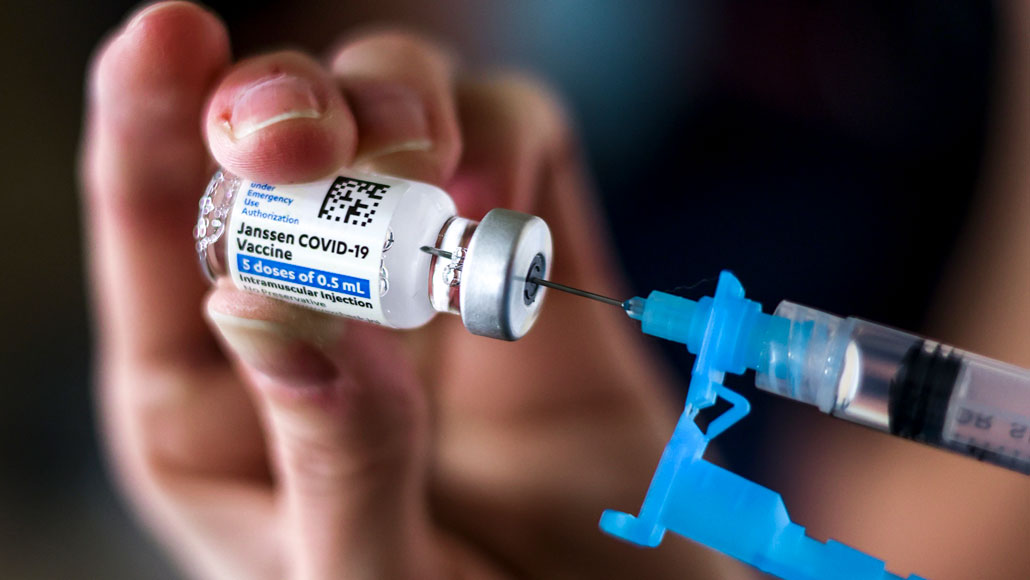 Federal health officials in the United States are pressing pause on administering Johnson & Johnson's COVID-19 vaccine following rare reports of blood clots in people who received the shot. U.S. officials are recommending that, for now, states halt the shots, too.
Out of more than 6.8 million people vaccinated with Johnson & Johnson's jab in the United States, six developed severe blood clots in the sinuses that drain blood from the brain, officials with the U.S. Food and Drug Administration and Centers for Disease Control and Prevention said April 13 in a news release. That condition, called cerebral venous sinus thrombosis or CVST, is coupled with low levels of platelets in the blood after vaccination.
How long the pause will last largely depends on the outcome of an expert review of the cases. The CDC's Advisory Committee on Immunization Practices met April 14 to discuss the cases and decided to extend the pause and reconvene in seven to 10 days. That extension gives experts more time to gather data and closely evaluate potential risks.
The U.S. action comes less than a week after the European Medicines Agency announced that its experts had found a link between a COVID-19 vaccine developed by AstraZeneca and the University of Oxford and conditions like CVST (SN:4/7/21). In the European Union and the United Kingdom, most of the rare blood clots have occurred in vaccinated women younger than 60 years old. But the risk factors remain unclear, according to the EMA. Health officials there have recommended that CVST and other unusual clots be listed as a rare side effect of AstraZeneca's vaccine.
In the United States, all six CVST cases were in women younger than 50 and appeared six to 13 days after vaccination. One person died and another is in critical condition. "These events appear to be extremely rare," Janet Woodcock, the FDA's acting commissioner, said in an April 13 call with news reporters. She noted that like with AstraZeneca's shot, there are too few cases with Johnson & Johnson's vaccine to come to any conclusions about who is at highest risk of developing the clots. Johnson & Johnson has delayed the rollout of its vaccine in Europe, the pharmaceutical company said April 13 in a news release.
The pause on using the vaccine is "out of an abundance of caution" until health officials review the cases, Woodcock said. It will give experts time to prepare the health care system so health care providers can learn about options to treat patients, since CVST requires different medical treatments than other types of clots. Experts can also notify people being vaccinated about symptoms to watch out for, as well as keep an eye on new reports that might pop up.
"These clots are very different from normal blood clots," says Elliott Haut, a blood clot expert and trauma surgeon at Johns Hopkins School of Medicine. "It's a tough place to be," but with the numbers so far showing a rate of 1 case of clotting per 1 million people, the benefits of the vaccine still outweigh the risks, he says.
COVID-19 itself can cause clots in around one-fifth of hospitalized patients and has killed nearly 3 million people worldwide over the past year (SN: 11/2/20). Other medications like hormonal birth control also carry blood clot risks, yet people still take contraceptives, Haut says.
Symptoms like severe headache, leg or abdominal pain, or shortness of breath within three weeks of vaccination with Johnson & Johnson's vaccine could be a sign of a dangerous clot, Anne Schuchat, the CDC's principal deputy director, said in the April 13 call. Those side effects are different, and appear much later than the flulike symptoms that stem from the immune response to the jab in the days following the shot.
Vaccine safety is a top priority so officials are taking the reports of clotting seriously, Woodcock said. There have been no cases of clotting seen in people vaccinated with Moderna's or Pfizer's mRNA-based COVID-19 vaccines out of 180 million doses given in the United States.
Subscribe to Science News
Get great science journalism, from the most trusted source, delivered to your doorstep.
Both AstraZeneca's and Johnson & Johnson's shots are adenovirus-based vaccines. The shots use an engineered form of adenoviruses — which usually cause the common cold but are altered to not cause disease — to deliver instructions to cells to make the coronavirus's spike protein. That's what primes the immune system to recognize an infection. It's possible — though far from proven — that the rare clots are linked to these types of vaccines. But researchers don't know yet, Peter Marks, director of the FDA's Center for Biologics Evaluation and Research said in the call with reporters.
It also unknown how the vaccines could cause clots. Studies suggest that an immune response to the vaccines might spur platelets to clump together, but that too is far from clear.