From the December 6, 1930, issue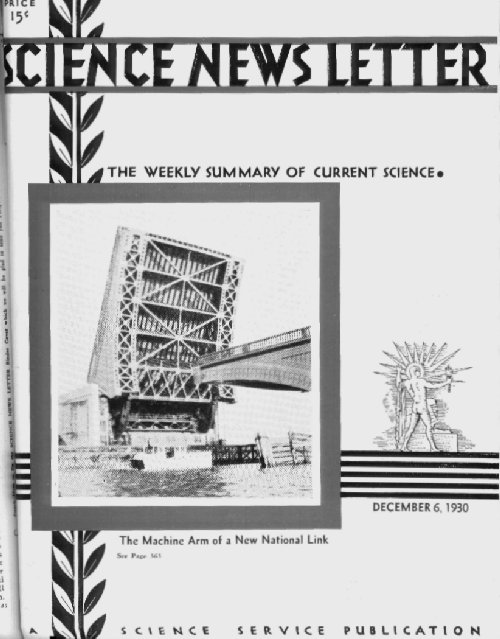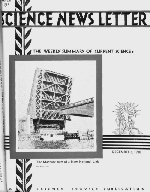 Engineers put a span in the Arlington Memorial Bridge and then hid it. So cleverly designed and camouflaged is the million-dollar, double-bascule draw of the Arlington bridge, which is nearing completion here, that it is difficult for one to tell the span made of steel that parts in the middle and rises to allow ships to pass from the eight other graceful arches made of concrete and faced with Georgia's Stone Mountain granite.
Science News headlines, in your inbox
Headlines and summaries of the latest Science News articles, delivered to your email inbox every Thursday.
Thank you for signing up!
There was a problem signing you up.
The erection of such a bridge of monumental pretentions with a bascule draw span that harmonizes with the rest of the structure and does not detract from its beauty is thought by engineers to be unprecedented in bridge building.
Subscribe to Science News
Get great science journalism, from the most trusted source, delivered to your doorstep.
The picture on the front cover presents an unusual view of the Washington leaf of the span. The floor of the huge raised leaf is approximately 103 feet long and 90 feet wide. It is balanced by about 2,440 tons of counterweights.
X RAYS CAN DETECT DISEASE IN MANY PARTS OF BODY
People generally do not yet know how valuable the X ray is in detecting disease of almost any part of the body in its early stages, when the chance of cure is greatest, said Dr. Joseph Colt Bloodgood of Johns Hopkins University at the meeting in Los Angeles this week of the Radiological Society of North America. At the present time there is no cure or management of cancer, except surgical removal with or without irradiation, or irradiation alone, he said. Cancer, however, is not the only disease in which X rays have proved their usefulness. Dr. Bloodgood pointed out other conditions for which they are valuable.
WOODWORKING PLANTS BECOME SOURCE OF DUST EXPLOSIONS
Wood not only burns; it also explodes. The fact that wood dust is one of the most serious sources of dust explosions and that it is more easily ignited than some of the grain dusts that have been the cause of many fatal disasters is part of the latest information learned from investigations by dust-explosion engineers.
Linoleum, bakelite, dynamite, toothpaste-tube tops, and ash trays are largely responsible for the recent increase in the hazard of wood-dust explosions. These articles frequently have in their composition quantities of wood flour, which is much finer than saw dust–so fine that it will pass through a 200-mesh screen.