From the December 8, 1934, issue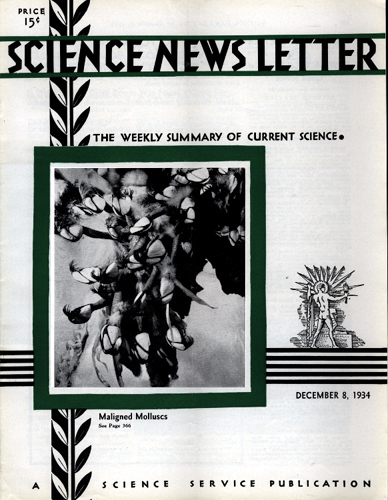 GOOSE BARNACLES EXIST, THOUGH NOT HATCHING GEESE
Sometimes enlightenment overdoes itself; in banishing a superstition, we fall victims to an equally unjustified incredulity. Thus, many persons, aware of the discrediting of the old fable about geese being produced from "goose barnacles," think there is no such animal as a goose barnacle. They do exist, however; they are found abundantly adhering to pilings, ships' bottoms, and other marine structures.
Their goose-shaped bodies, armored in shell, were responsible for the old belief. Actually, they are molluscs, kindred of clams and oysters, squid, and snails, though their peculiar mode of life has rendered them atypical in many respects.
Science News headlines, in your inbox
Headlines and summaries of the latest Science News articles, delivered to your email inbox every Thursday.
Thank you for signing up!
There was a problem signing you up.
ELEMENTS IN EARTH'S CRUST CAUSED BY COSMIC RAYS
Subscribe to Science News
Get great science journalism, from the most trusted source, delivered to your doorstep.
Penetrating cosmic rays striking the Earth for eons of time may have caused the formation of the varied elements, found in the top few miles of crust, from the supposed iron and nickel core. This is the suggestion of Prof. Gilbert N. Lewis of the University of California.
Prof. Lewis' theory entitled, "The Genesis of the Elements," appears in the Physical Review (Nov. 15). Prof. Lewis is world-famous among chemists for his researches, among them the development, with Dr. Irving Langmuir, Nobel Prizeman, of the so-called Lewis-Langmuir atomic theory.
COSMIC RAYS DEFLECTED IN STRONG ELECTRIC FIELDS
A new method of analyzing cosmic rays—by deflecting them in intense electric fields—has been achieved by Dr. Ernst Lenz at the Physical Institute of the Technical College, Stuttgart, Germany. (Nature, Nov. 24). Dr. Lenz is a pupil and colleague of Prof. Erich Regener, world-famous cosmic ray authority.
If cosmic rays consist, in part, of electrical particles, such particles should be deflected by both strong magnetic and electric fields. The deflection by magnetic fields has long been known, but hitherto scientists have had difficulty in detecting the electric-field deflection.
Using three Geiger-Müller counters to line up the axis of a corpuscular cosmic ray and a fourth counter to measure the angle of deflection, Dr. Lenz found that fields of 700 volts per centimeter were capable of deflecting the weaker and softer rays about four-tenths of an inch.
Very intense electric fields of 70,000 volts per centimeter were necessary to deflect the most penetrating rays. For the soft rays, the displacement indicated a preponderance of particles bearing a positive charge of electricity. The strong penetrating rays, however, showed a preponderance of particles carrying a negative electric sign.