From the February 27, 1932, issue
PUSSY WILLOW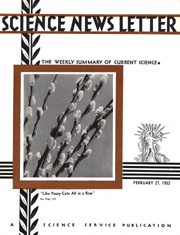 Florists shops have long been offering big, beautiful, and expensive wands of pussy willows. But now the willow trees and bushes out of doors are putting forth their own offerings: smaller catkins, perhaps, but with the authentic tang of the wild about them. Harmless, charming, furry wild kittens, beloved of children everywhere!
Pussy willows have serious work in the world, however. They are the flower clusters of the willow, and it is their business to attend to the exchange of pollen. After fertilization is thus brought about, the seeds of the willows are launched on little cottony parachutes, much like those of cottonwood but less woolly and hence less troublesome.
Science News headlines, in your inbox
Headlines and summaries of the latest Science News articles, delivered to your email inbox every Thursday.
Thank you for signing up!
There was a problem signing you up.
DEEP-SEA FISH PRODUCE LIGHT UNDER STIMULATION OF DRUG
Fish that shed light in the black depths of the ocean can, like their luminous brethren at the surface, be stimulated to exercise their peculiar powers through the action of adrenalin, a potent drug used by physicians to prolong human life.
Subscribe to Science News
Get great science journalism, from the most trusted source, delivered to your doorstep.
This discovery, reported to the New York Zoological Society, was made by Dr. E. Newton Harvey, professor of physiology at Princeton University, during experiments with living deep-sea specimens furnished by William Beebe, noted naturalist. The fish, Echiostoma ctenobarba, measuring about 1 foot in length, was caught with dragnets at a depth of about a mile.
ROCKS IN UTAH CANYON YIELD SEAWEEDS OF PRIMEVAL DATE
About 500,000,000 years ago there grew in what is now Logan Canyon, Utah, masses of vegetation so abundant as to rival the most luxuriant growths of seaweed anywhere along our coasts today, Dr. G.R. Mansfield of the U.S. Geological Survey observed on a field-exploration trip last summer with Prof. Reed W. Bailey of Utah State Agricultural College.
Prof. Bailey, the discoverer, guided Dr. Mansfield to this place where evidences of plant life in early geologic time were preserved in unusual profusion. On the west side of the main canyon just below the mouth of the Right Fork, two great blocks of sandstone each weighing several tons had slid downhill from a ledge above and lay by the side of the road. They had turned bottom up in the process and displayed a mat of vegetation of the type usually called fucoids.