To hear the beat, your brain may think about moving to it
A brain region linked to movement is integral to recognizing rhythms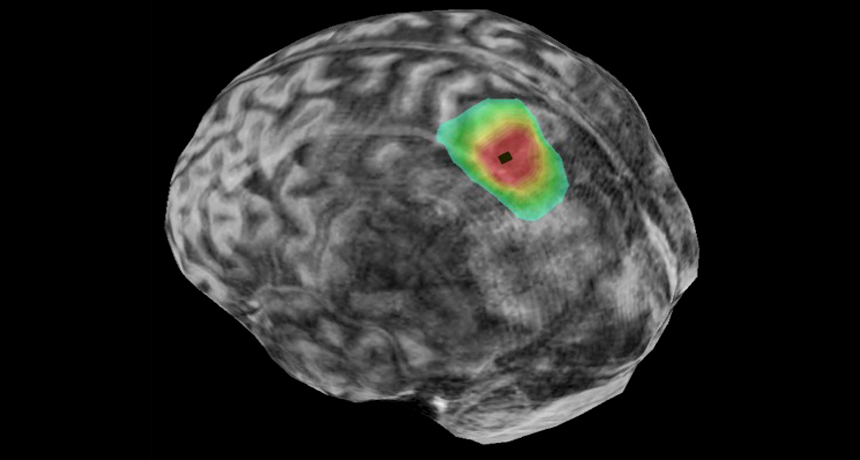 If you've ever felt the urge to tap along to music, this research may strike a chord.
Recognizing rhythms doesn't involve just parts of the brain that process sound — it also relies on a brain region involved with movement, researchers report online January 18 in the Journal of Cognitive Neuroscience. When an area of the brain that plans movement was disabled temporarily, people struggled to detect changes in rhythms.
The study is the first to connect humans' ability to detect rhythms to the posterior parietal cortex, a brain region associated with planning body movements as well as higher-level functions such as paying attention and perceiving three dimensions.
"When you're listening to a rhythm, you're making predictions about how long the time interval is between the beats and where those sounds will fall," says coauthor Jessica Ross, a neuroscience graduate student at the University of California, Merced. These predictions are part of a system scientists call relative timing, which helps the brain process repetitive sounds, like a musical rhythm.
"Music is basically sounds that have a structure in time," says Sundeep Teki, a neuroscientist at the University of Oxford who was not involved with the study. Studies like this, which investigate where relative timing takes place in the brain, could be crucial to understanding how the brain deciphers music, he says.
Researchers found hints of the relative timing system in the 1980s, when observing that Parkinson's patients with damaged areas of the brain that control motion also had trouble detecting rhythms. But it wasn't clear that those regions were causing patients' difficulty with timing — Parkinson's disease can wreak havoc on many areas of the brain.
Ross and her colleagues applied magnetic pulses to two different areas of the brain in 25 healthy adults. Those areas — the posterior parietal cortex and the supplementary motor area, which controls movement — were then unable to function properly for about an hour.
Suppressing activity in the supplementary motor area caused no significant change in participants' ability to follow a beat. But when the posterior parietal cortex was suppressed, all of the adults had trouble keeping rhythm. For example, when listening to music overlaid with beeps that were on the beat as well as off the beat, participants frequently failed to differentiate between the two. This finding suggests the posterior parietal cortex is necessary for relative timing, the researchers say.
Subscribe to Science News
Get great science journalism, from the most trusted source, delivered to your doorstep.
The brain has another timing system that was unaffected by the suppression of activity in either brain region: discrete timing, which keeps track of duration. Participants could distinguish between two notes held for different amounts of time. Ross says this suggests that discrete timing is governed by other parts of the brain. Adults also had no trouble differentiating fast and slow tempos, despite tempo's connection to rhythm, which might imply the existence of a third timing system, Ross says.
Research into how the brain processes time, sound and movement has implications for understanding how humans listen to music and speech, as well as for treating diseases like Parkinson's.
Still, many questions about the brain's timing mechanisms remain (SN: 07/25/15, p. 20): What are the evolutionary origins of different timing mechanisms? How do they work in conjunction to create musical perception? And why do most other animals seem to lack a relative timing system?
Scientists are confident that they will have answers — all in good time.