Internet Seduction: Online sex offenders prey on at-risk teens
Widespread fears that online sexual predators mainly target naive children are largely inaccurate, according to a new study of Internet-initiated sex crimes.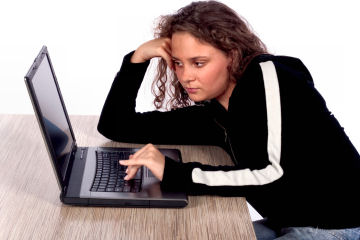 Instead, the vast majority of online sex offenders are adults who contact vulnerable 13- to 17-year-olds and seduce them into sexual relationships, says a team led by lawyer and sociologist Janis Wolak of the University of New Hampshire in Durham. In other words, Internet sex crimes usually represent cases of statutory rape, involving the exploitation of teens legally defined as too young to consent to sex with adults. Forcible sexual assault and child molestation represent only a small minority of online-initiated sex crimes, the team reports in the February-March American Psychologist.
"The things that we hear and fear about Internet sex crimes and the things that actually occur may not be the same," Wolak says.
In 2000, Internet-initiated sex crimes accounted for about 7 percent of reported statutory rapes in the United States, the investigators estimate. That proportion has probably grown since then with increased Internet use and better law-enforcement training regarding Internet crimes, the team notes.
Wolak and her colleagues consulted data gathered via phone interviews in 2000 and 2005 from national samples that totaled 3,000 Internet users, ages 10 to 17. The researchers also conducted 612 interviews with federal, state, and local law-enforcement officials from October 2001 to July 2002. Interviews focused on officials' knowledge of Internet-related sex crimes that targeted children and teens.
The patterns for how offenders reach the victims suggest that existing educational programs for children and teens may not be effective, the scientists suggest. For instance, they found that teens' use of social networking sites such as MySpace and Facebook did not increase their likelihood of being contacted by a sex offender.
Instead, adult offenders primarily use instant messages, e-mail, and chat rooms to meet and develop intimate relationships with adolescent victims, the scientists say. Offenders promise victims romance and interpersonal connection but exploit them for sex.
Particularly vulnerable youths often have a background of sexual or physical abuse, depression, delinquency, or serious family problems, Wolak says. They also take various risks, such as talking to unknown people online about sex and seeking pornography on the Internet.
Three-quarters of the victims of sex crimes studied in the new report were girls.
The researchers found that male victims typically described themselves in online communications as gay or as questioning their sexual orientation.
Existing educational programs discourage children from sharing or posting personal information online, warn about deceptive online messages, and urge parents to monitor children's Internet use. Wolak recommends that prevention efforts also teach teens how adults can seduce them into sexual relationships and how to recognize appropriate and inappropriate types of communication from adults.
The new findings fit with evidence that many teens discuss romantic and sexual interests in online chat rooms, remarks psychologist Kaveri Subrahmanyam of California State University, Los Angeles. However, most teens use online forums to extend relationships with friends from daily life, she notes.
"An adolescent not interacting online with offline contacts is a red flag of sorts," Subrahmanyam says.