From the January 18, 1930, issue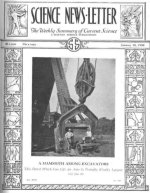 HUGE SHOVEL CAN LIFT CAR OF COAL
The largest shovel in the world, with a scoop big enough to pick up an automobile, is the subject of our cover illustration. It is in use at the Fidelity mine of the United Electric Coal Co., near DuQuon, Ill., the greatest coal-stripping enterprise in the world.
Electrically operated, the shovel obtains its power from a cable that trails behind. It was made by the Marion Steam Shovel Co. and is powered with General Electric equipment.
Although the dipper capacity is rated 15 cubic yards, it is estimated that the dipper will hold 20 cubic yards, heaping measure. One scoopload of dirt would be sufficient to fill a trench a foot wide, six feet deep, and 68 feet long, or a room 7 by 7 by 8 feet–about the size of the bathroom in an ordinary home.
CARBON MONOXIDE MAY NOW BE REMOVED FROM AUTO EXHAUST
A chemical device to replace mufflers on automobiles that will eliminate the deadly carbon monoxide contained in the exhaust gases has been developed by Dr. J.C.W. Frazer, professor and chairman of the department of chemistry at Johns Hopkins University.
Since carbon monoxide, odorless, colorless, tasteless, and poisonous swiftly in small concentrations, claims many lives each month through the carelessness of automobilists failing to open garage doors before warming up their engines, this latest chemical achievement is hailed as an important step in making the machine age less dangerous.
Subscribe to Science News
Get great science journalism, from the most trusted source, delivered to your doorstep.
Dr. Frazer declared today that an automobile equipped with the new oxidizing device could be run in a closed garage without danger from carbon monoxide poisoning.
EXPLORING A PARTICLE NOW POSSIBLE
A new discovery, of value to scientific research and to industry–the chemical analysis of particles so small that hitherto they defied all attempts to determine their composition–has been explained by Dr. W.C. MacTavish, professor of chemistry at New York University. The analyses were made by two young Austrian chemists now connected with New York University–Dr. Anton Benedetti-Pichler and Dr. Joseph Niederl, both of them former students of Prof. Fritz Pregl, who received the Nobel Prize for his work in microanalysis. Both come from the Chemical Institute of the Technical High School at Graz, Austria.
Dr. Niederl demonstrated a method of analysis discovered by one of his pupils at New York University, William Saschek. He termed it the "micro-vaporimetric molecular weight method of analysis," by which he determined the composition of a fraction of a drop of liquid.