From the July 4, 1931 issue
MAGNIFYING EYE WOULD SEE STRANGE THINGS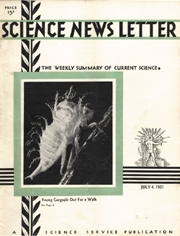 If we could only convert our eyes into magnifying glasses at will, we would see a lot of astonishing things that escape us now because they are too small. The little walking gargoyle shown on the cover of Science News Letter, for example.
It is a juvenile stage of a very common insect, which we ordinarily pass by as just another bug. But here he is, magnified only 16 times by Cornelia Clarkes camera, and he assumes an appearance more bizarre than the imagination of a Persian artist, more impossible than the figures in a medieval bestiary.
Science News headlines, in your inbox
Headlines and summaries of the latest Science News articles, delivered to your email inbox every Thursday.
Thank you for signing up!
There was a problem signing you up.
PICTURES OF SPINNING MODEL DEMONSTRATE ATOM STRUCTURE
Pictures of what an atom looks like inside, according to the new theory of wave mechanics, have been made by Dr. H.E. White of the University of California, Berkeley. Recently, scientists have used only a mathematical formula for this purpose, as a visible picture was supposed not to give a true representation of the atom.
Subscribe to Science News
Get great science journalism, from the most trusted source, delivered to your doorstep.
Dr. White has made a rotating mechanical model, which, when set in motion and photographed, gives a good idea of how electricity is spread out inside the simplest known atom, that of hydrogen. These photographs show beautiful designs that differ according to the amount of energy the atom has.
ATMOSPHERE SAID TO BE VERY HOT 50 MILES ABOVE EARTH
Just a mere 50 miles above our heads, the temperature is between 1,000 and 2,000 degrees Fahrenheit, according to a new theory of Earths atmosphere presented by Prof. B. Guthenberg of the California Institute of Technology. This extremely hot weather a few miles up comes as the result of Prof. Guthenbergs novel theory that the atmosphere is practically the same in composition throughout and not exclusively helium in some high layers, as other physicists have concluded. Although the temperatures are high in the heights of the stratosphere, the air is very diffuse and thin. Only a rocket could actually penetrate the atmospheric heights to bring back evidence of what actually exists there, Prof. Guthenberg said. The shells of the long-range gun used by the Germans in bombarding Paris probably traveled in a highly heated region.