Making a mistake can put your brain on 'pause'
Study shows how one error can lead to another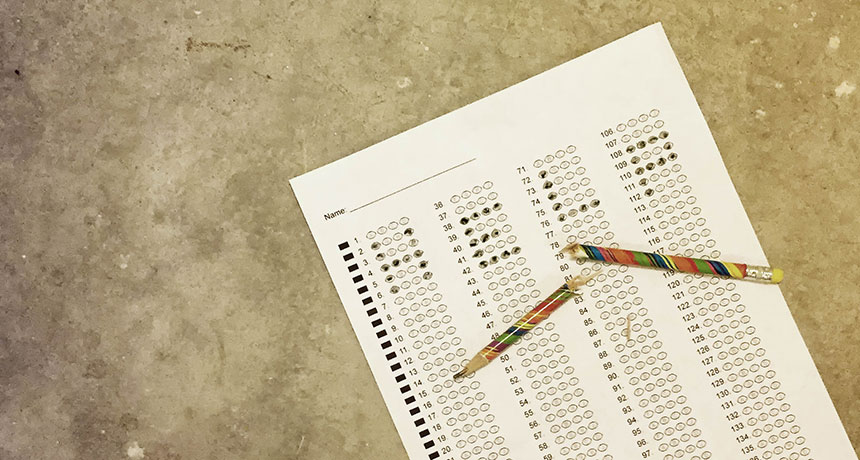 Mistakes can be learning opportunities, but the brain needs time for lessons to sink in.
When facing a fast and furious stream of decisions, even the momentary distraction of noting an error can decrease accuracy on the next choice, researchers report in the March 15 Journal of Neuroscience.
"We have a brain region that monitors and says 'you messed up' so that we can correct our behavior," says psychologist George Buzzell, now at the University of Maryland in College Park. But sometimes, that monitoring system can backfire, distracting us from the task at hand and causing us to make another error.  
Science News headlines, in your inbox
Headlines and summaries of the latest Science News articles, delivered to your email inbox every Thursday.
Thank you for signing up!
There was a problem signing you up.
"There does seem to be a little bit of time for people, after mistakes, where you're sort of offline," says Jason Moser, a psychologist at Michigan State University in East Lansing, who wasn't part of the study.
To test people's response to making mistakes, Buzzell and colleagues at George Mason University in Fairfax, Va., monitored 23 participants' brain activity while they worked through a challenging task. Concentric circles flashed briefly on a screen, and participants had to respond with one hand if the two circles were the same color and the other hand if the circles were subtly different shades.
After making a mistake, participants generally answered the next question correctly if they had a second or so to recover. But when the next challenge came very quickly after an error, as little as 0.2 seconds, accuracy dropped by about 10 percent. Electrical activity recorded from the visual cortex showed that participants paid less attention to the next trial if they had just made a mistake than if they had responded correctly.
Subscribe to Science News
Get great science journalism, from the most trusted source, delivered to your doorstep.
The cognitive demand of noting and processing the error seems to divert attention that would otherwise be devoted to the task, Buzzell says.
In real life, people usually have time — even if just a few seconds — to reflect on a mistake before having to make another decision, says Jan Wessel, a psychologist at the University of Iowa in Iowa City. But in some activities such as driving a car or playing a musical instrument, people must rebound from errors quickly while continuing to correctly carry out the rest of the task, he says. Those actions might push the limits of error processing.