Male cockatoos have the beat
New study suggests that birds' drum grooves are analogous to human music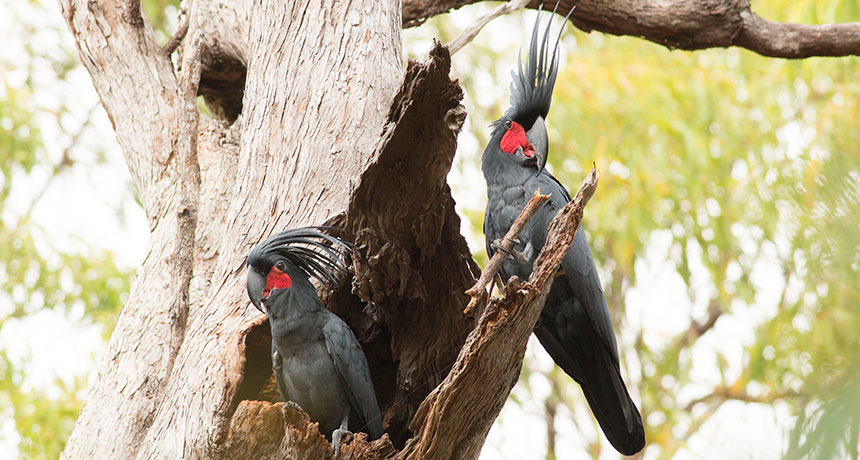 Like 1980s hair bands, male cockatoos woo females with flamboyant tresses and killer drum solos.
Male palm cockatoos (Probosciger aterrimus) in northern Australia refashion sticks and seedpods into tools that the animals use to bang against trees as part of an elaborate visual and auditory display designed to seduce females. These beats aren't random, but truly rhythmic, researchers report online June 28 in Science Advances. Aside from humans, the birds are the only known animals to craft drumsticks and rock out.
Science News headlines, in your inbox
Headlines and summaries of the latest Science News articles, delivered to your email inbox every Thursday.
Thank you for signing up!
There was a problem signing you up.
"Palm cockatoos seem to have their own internalized notion of a regular beat, and that has become an important part of the display from males to females," says Robert Heinsohn, an evolutionary biologist at the Australian National University in Canberra. In addition to drumming, mating displays entail fluffed up head crests, blushing red cheek feathers and vocalizations. A female mates only every two years, so the male engages in such grand gestures to convince her to put her eggs in his hollow tree nest.
Heinsohn and colleagues recorded more than 131 tree-tapping performances from 18 male palm cockatoos in rainforests on the Cape York Peninsula in northern Australia. Each had his own drumming signature. Some tapped faster or slower and added their own flourishes. But the beats were evenly spaced — meaning they constituted a rhythm rather than random noise.
Subscribe to Science News
Get great science journalism, from the most trusted source, delivered to your doorstep.
From bonobos to sea lions, other species have shown a propensity for learning and recognizing beats. And chimps drum with their hands and feet, sometimes incorporating trees and stones, but they lack a regular beat.
The closest analogs to cockatoo drummers are human ones, Heinsohn says, though humans typically generate beats as part of a group rather than as soloists. Still, the similarity hints at the universal appeal of a solid beat that may underlie music's origins.
STICKS Watch male cockatoo drummers in action. R. Heinsohn and C. Zdenek