From the May 29, 1937, issue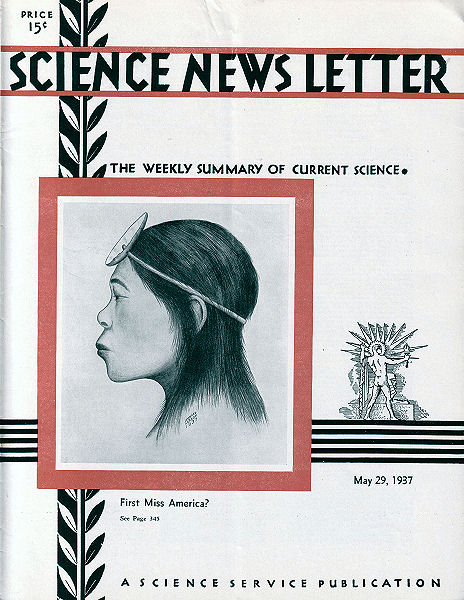 AGE OF "MINNESOTA GIRL" IS MYSTERY TO SCIENTISTS
Was the comely maiden pictured on the cover of this week's Science News Letter the first Miss America?
Archaeologists are engaged in discussion over the age of this mysterious young lady, known to scientists as "Minnesota Girl." She is 20,000 years old, says Prof. A.E. Jenks of the University of Minnesota, under whose direction the portrayal of the cover illustration was constructed.
Some other anthropologists say her skeleton, found in an ancient Minnesota lake bed, is not different from those of the Sioux Indians who fought the white man. The shell doodad was found with her skull.
ATTEMPT TO SPLIT NEUTRON A FAILURE AT CAVENDISH
The neutron has not yet been disintegrated. This subatomic particle, one of those unknown until recent years, cannot be split into electron and proton, older building blocks of the universe.
A scientific trio from famous Cambridge's famous Cavendish Laboratory, consisting of C.W. Gilbert, C.L. Smith, and J.H. Fremlin, attempted to confirm a report from Japan that the neutron could be broken up. They bombarded it vigorously with the hearts or cores of heavy hydrogen atoms, call deuterons. But the neutron refused to split. (Nature, May 8).
CATALASE, MYSTERY STUFF OF CELLS, IS CRYSTALLIZED
Catalase, a "mystery" stuff apparently present in all living cells yet whose use in life is not known, has been obtained in pure crystalline form for the first time by Drs. James B. Sumner and Alexander L. Dounce of Cornell University. Announcement of their achievement, which should make much easier future research on this difficult substance, is in Science (April 9).