New Horizons' next target might have a moon
The Kuiper Belt object MU69 may have a smaller companion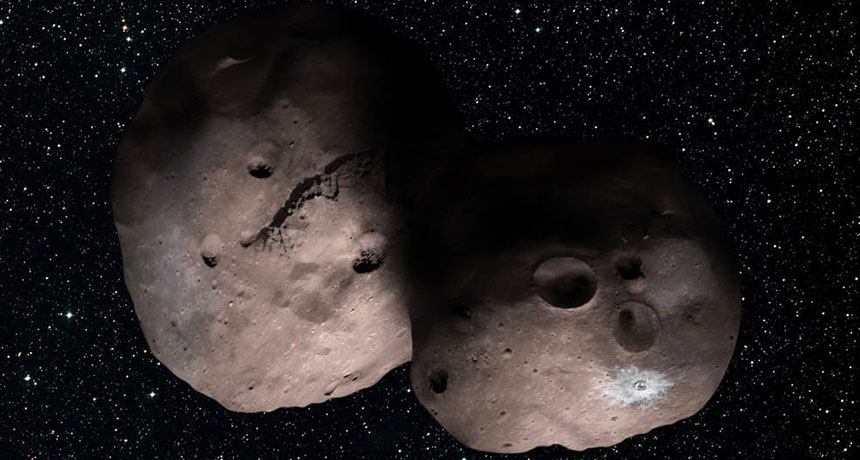 NEW ORLEANS — The New Horizons team may get more than it bargained for with its next target. Currently known as 2014 MU69, the object might, in fact, be two rocks orbiting each other — and those rocks may themselves host a small moon.
MU69 orbits the sun in the Kuiper Belt, a region more than 6.5 billion kilometers from Earth. That distance makes it difficult to get pictures of the object directly. But last summer, scientists positioned telescopes around the globe to catch sight of MU69's shadow as it passed in front of a distant background star (SN Online: 7/20/17), a cosmic coincidence known as an occultation.
Science News headlines, in your inbox
Headlines and summaries of the latest Science News articles, delivered to your email inbox every Thursday.
Thank you for signing up!
There was a problem signing you up.
Analyzing that flickering starlight raised the idea that MU69 might have two lobes, like a peanut, or might even be a pair of distinct objects. Whatever its shape, MU69 is not spherical and may not be alone, team members reported in a news conference on December 12 at the fall meeting of the American Geophysical Union.
Another stellar flicker sighting raised the prospect of a moon. On July 10, NASA's airborne Stratospheric Observatory for Infrared Astronomy observed MU69 pass in front of a different star (SN: 3/19/16, p. 4). SOFIA saw what looked like a new, shorter dip in the star's light. Comparing that data with orbit calculations from the European Space Agency's Gaia spacecraft suggested that the blip could be another object around MU69.
A double object with a smaller moon could explain why MU69 sometimes shifts its position from where scientists expect it to be during occultations, said New Horizons team member Marc Buie of the Southwest Research Institute in Boulder, Colo.
The true shape will soon be revealed. The New Horizons spacecraft set its sights on the small space rock after flying past Pluto in 2015, and will fly past MU69 on January 1, 2019.
Subscribe to Science News
Get great science journalism, from the most trusted source, delivered to your doorstep.