From the November 24, 1934, issue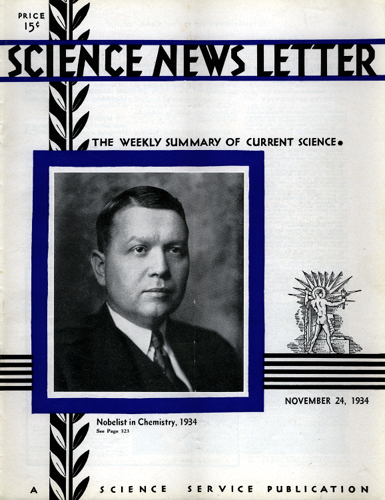 NOBEL CHEMISTRY AWARD FOR DISCOVERY OF DEUTERIUM
The 1934 Nobel Prize in chemistry was awarded to Prof. Harold C. Urey of Columbia University in recognition of his part in the discovery of heavy hydrogen (deuterium). Since the 1934 physics prize and the 1933 chemistry prize unawarded last year are not to be given this year, all of this year's science Nobel awards are to be conferred on Americans. The prize in medicine went to the Americans who developed liver therapy for pernicious anemia, Drs. G.H. Whipple, George R. Minot, and William P. Murphy.
Science News headlines, in your inbox
Headlines and summaries of the latest Science News articles, delivered to your email inbox every Thursday.
Thank you for signing up!
There was a problem signing you up.
MYSTERIOUS "GREAT RED SPOT" OF JUPITER IS EXPLAINED
Subscribe to Science News
Get great science journalism, from the most trusted source, delivered to your doorstep.
A great island or berg of solid frozen ammonia floating on a sea of liquid hydrocarbons like ethane, ethylene, and acetylene, is suggested as the structure of the long-known, mysterious "great red spot" observed on the surface of the planet Jupiter. The hydrocarbon ocean may be as large as the planet itself, which is 86,720 miles in diameter.
This astounding postulate is presented by Dr. Arthur Adel of the University of Michigan and Dr. V.M. Slipher of Lowell Observatory (Physical Review, Nov. 15) in describing research which provides indications of the nature of the atmosphere on the major planets: Jupiter, Saturn, Neptune,and Uranus.
POLAR ICE CAP SHIVERING IN PERPETUAL VIBRATION
Even an ice cap shivers in the wind of a Siberian polar sea. So it appears from the discovery reported by Ibrahim Fakidov, member of the Soviet Arctic expedition on the S.S. Cheliuskin.
Mr. Fakidov found that the solid ice cap of the Chukchi Sea is in a state of perpetual vibration. Reporting this observation (Nature, Oct. 6), the Russian scientist stated that the vibrations are caused mainly by wind. In addition to wind vibrations he also observed "disturbance vibrations" in the ice, spreading equally from the center—the spot of the breaking up of the ice in different directions.
Mr. Fakidov stated that he planned to set up special ice seismographs on the shore-ice to take observations of both types of vibrations. These data are expected to prove valuable in forecasting ice conditions.