From the November 28, 1931, issue
ACTION OF STEEL UNDER STRESS REVEALED IN WRITING ON SAND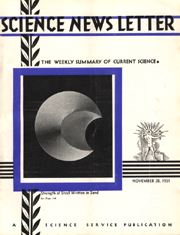 How solid steel softens and flows like wax when compressed or stretched is being shown to the naked eye by Dr. A. Nadai at the Research Laboratories of the Westinghouse Electric and Manufacturing Company, at East Pittsburgh, Pa.
In his new apparatus, a beam of light is reflected from a highly polished surface of the metal specimen that is being compressed or twisted. Definite markings called slip lines appear.
Science News headlines, in your inbox
Headlines and summaries of the latest Science News articles, delivered to your email inbox every Thursday.
Thank you for signing up!
There was a problem signing you up.
These slip lines are now the object of intense study by engineers and mathematicians as they indicate how a machine part of this shape is stressed in its interior. They can also be detected by etching with acid the surface of the metal that is undergoing strain.
Dr. Nadai has now also ingeniously shown that the formation of these strain lines can be studied or imitated by models. He makes a thin card of the same shape as the cross-section of the bar that is being twisted. This is then dipped into fine sand and raised in a horizontal position so that a neat pile of sand is left on top of it. The slopes of this sand cake give a picture of the stresses within the bar and can be used to test theories of the strength of such a bar under torsion.
Subscribe to Science News
Get great science journalism, from the most trusted source, delivered to your doorstep.
BACTERIA MAY HAVE HELPED IN FORMATION OF ANTHRACITE
Microscopic bugs are working more than 3,000 feet deep in the earth to revise those parts of the schoolboys textbooks that tell how coal was formed, while up on the surface cousins of the deep-dwelling bacteria, also new to science, are being made to take the poison out of illuminating gas, change hydrogen and carbon monoxide into acetic acid and the acid into methane gas, and to do for the research chemist many other strange tasks that may grow into important industrial processes. Thus may be summarized reports of some of the latest scientific investigations presented at Pittsburgh before the Third International Conference on Bituminous Coal, by prominent scientists from Germany, one of whom is Dr. Franz Fischer, director of the Kaiser Wilhelm Institute for Coal Research in Berlin.
UNIVERSE PULSATING IN CYCLES SEEN BY AMERICAN SCIENTIST
Like a toy balloon that a child blows up and deflates, the universe may be expanding and contracting in cycles of many millions of years without running the risk of a death from reaching a dead-still level of energy.
This possibility is held forth by studies on model mathematical universes reported by Dr. Richard C. Tolman of the California Institute of Technology to the National Academy of Sciences, meeting at Yale University.
Dr. Tolmans study of the pulsating behavior of models of the universe may help astronomers and physicists out of their present dilemma, caused by the discovery that the gigantic nebulae are rushing outward at explosive rates.