From the October 3, 1936, issue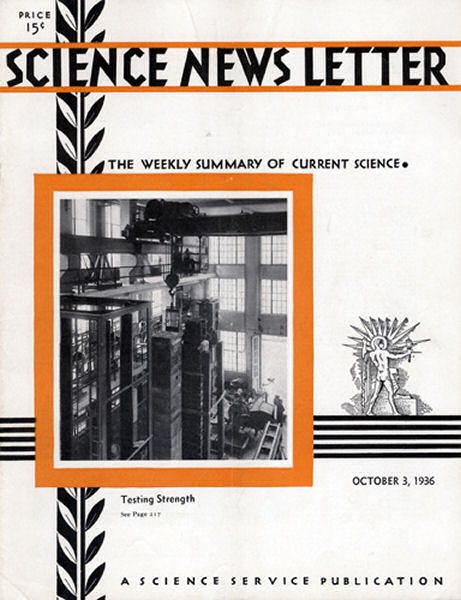 STEEL AND CONCRETE HOLD 8,000,000-POUND LOAD
Giant, 24-foot-long columns of steel and concrete have been tested at the National Bureau of Standards with equipment capable of exerting a maximum of 10,000,000 pounds. As much as 8,314,000-pounds load was exerted on the concrete-incased steel columns while only 5,853,000 was applied to similar steel columns alone.
The increase in the average of the final maximum load, due to the concrete, was 42 percent, report scientists Dr. A.H. Stang, H.L. Whittemore, and D.E. Parsons of the Bureau. On the front cover is shown one column already incased in concrete and workmen building the mold for incasing a second column.
Science News headlines, in your inbox
Headlines and summaries of the latest Science News articles, delivered to your email inbox every Thursday.
Thank you for signing up!
There was a problem signing you up.
LIVING ORGANISMS FOUND IN WATERS OF THE DEAD SEA
Subscribe to Science News
Get great science journalism, from the most trusted source, delivered to your doorstep.
Living organisms have been found in Dead Sea water, which has always been supposed to be utterly devoid of life of any kind because of its exceedingly high concentration of salt, potash, and other mineral matter. The discovery was made by Dr. B. Wilkansky of the Hebrew University of Jerusalem.
Dr. Wilkansky collected samples of water in the Dead Sea, at various depths to 22 feet. After suitable laboratory preparation, three microscopic forms of life were found: one consisting of yeastlike cells, one of short, rodlike cells, and the third in the shape of long, fine threads.
A brief account of the discovery has been sent to the British science journal, Nature (Sept. 12). Investigations are being continued.
THROUGH SPECIAL TECHNIQUE ENZYME IS VIEWED AT WORK
For the first time in the history of physiological chemistry, an enzyme, one of those chemical substances important in the processes of digestion and fermentation, has actually been observed at work, and experimental proof has been provided for the theory that enzymes enter into chemical reactions, as well as stimulate them. This has been accomplished by Dr. Kurt G. Stern, Visiting Lecturer in Physiological Chemistry at Yale University, who, by a special technique that seems equivalent to slow-motion photography, caught the enzyme at its lightning-swift work.
The enzyme that opened the door for scientists to a new approach in the study of digestion was catalase, selected because it is the only colored enzyme found in sufficient quantities for experimental purposes and therefore amenable to spectroscopic study. Other enzymes are either colorless or found in minute quantities, but catalase is found in all living cells. The liver cells are especially rich in the substance.