It's not the deepest image of the heavens or the sharpest. But on September 14, the European Southern Observatory released a panoramic view of the entire night sky that may be among the widest.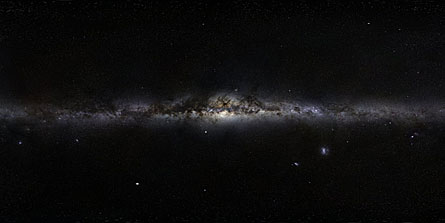 The image shows a stellar vista as would be seen by a human eye, pieced together from photos taken of the clear, dark skies in Chile's Atacama Desert and the Canary Islands. The plane of the Milky Way galaxy, seen edge-on from Earth's perspective, cuts a star-filled swath across in the middle of the image. The starry portrait shows the Milky Way's disk, central bulge of stars and small satellite galaxies.

The image is the first of three portraits produced by the European Southern Observatory's GigaGalaxy Zoom project, a collaboration between French writer and astrophotographer Serge Brunier and his colleague Frédéric Tapissier.
Brunier took images with an ordinary digital camera over several weeks between August 2008 and February 2009 from Chile, to capture the southern sky, and also traveled to La Palma, one of the Canary Islands, to image the northern sky. Some 1,200 of his raw images were then processed by Tapissier and ESO astronomers to produce a zoomable, 360-degree sky view. The original image contains 800 million pixels; the version produced for the GigaGalaxy Zoom website has 18 million.
The art-science collaboration is part of the International Year of Astronomy, which celebrates Galileo's first view of the night sky through a telescope in 1609. The second of the three planned images will be released on September 21.