U.S. oil and gas boom behind rising ethane levels
Up to 3 percent of emissions of the greenhouse gas come from single site centered in North Dakota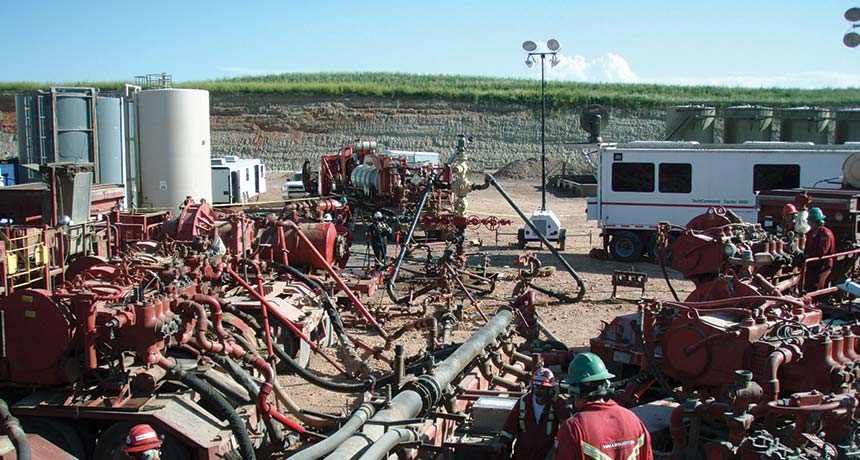 A single oil and gas field centered in North Dakota spews 1 to 3 percent of all global ethane emissions, about 230,000 metric tons annually. Based on that snapshot, researchers argue that the recent U.S. oil and gas boom is chiefly to blame for rising levels of ethane, a component of natural gas that can damage air quality and warm the climate.
Flying air-sniffing planes over the Bakken shale in May 2014, atmospheric scientist Eric Kort of the University of Michigan in Ann Arbor and colleagues discovered that ethane emissions were 10 to 100 times larger than expected. The region has been a major contributor to a U-turn in ethane emissions, the researchers report online April 26 in Geophysical Research Letters. Global atmospheric ethane levels declined from 14.3 million tons in 1984 to around 11.3 million tons in 2010. In recent years, however, ethane levels have increased.
Assuming that the Bakken shale's emissions grew over time as production ramped up over the last few years, the researchers projected the region's ethane emissions back in time. In 2012, yearly ethane emissions from the shale were large enough to cancel out half of the annual long-term decline in global ethane emissions, the researchers estimate.Additional sources, such as other oil and gas fields, contributed the rest of the increase.
Ethane typically stays in the atmosphere only around two months before breaking apart in chemical reactions. But in that short time, the gas worsens near-ground air quality and contributes to global warming both directly as a greenhouse gas and indirectly by increasing the amount of time methane, an even more potent greenhouse gas, remains in the atmosphere.