Danish sustainability: From coats to undies
COPENHAGEN The United Nations climate change conference may be over, but Denmark's interest in climate-protection issues isn't. Case in point: an exhibit at the Danish Design Center. Across the street from Copenhagen's famed Tivoli Gardens, local fashion-design students are showcasing their idea of another type of greens – fashion-forward clothes that are kind to Mother Nature.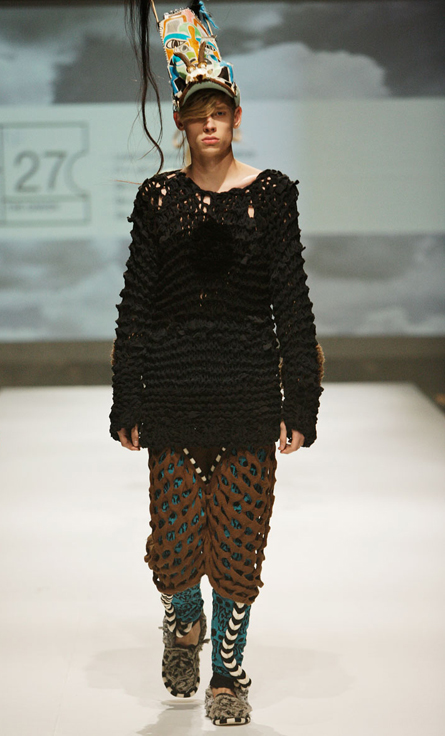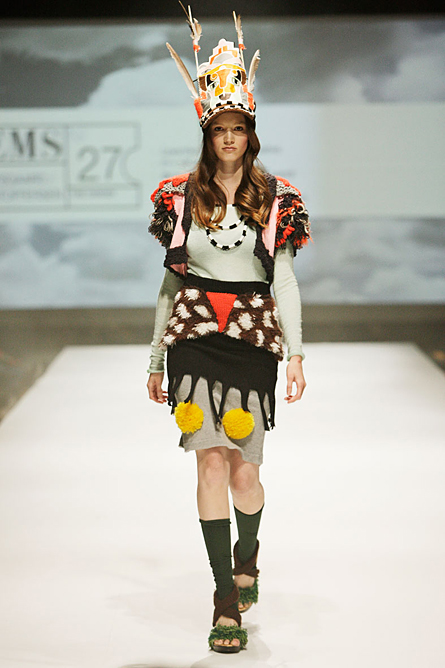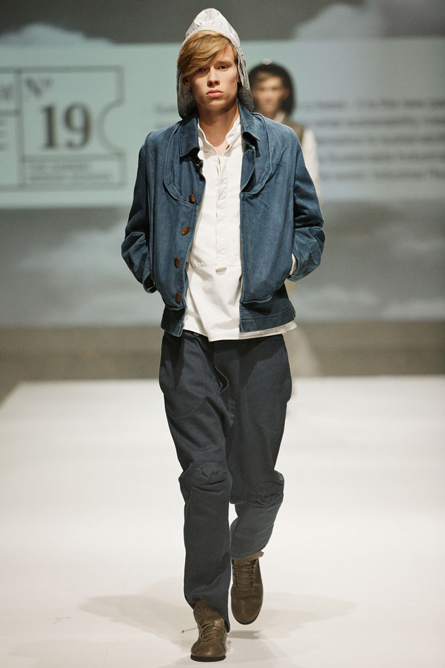 The students had been invited to compete in a program that asked them to explore the idea of sustainable clothing.
A guiding premise: People don't dress just for functionality – remaining warm or cool, modest or eye-popping. They tend to change their look, push the envelope of what is interesting or conventional. The result tends to be fads: fashion with a limited life. Buying often and wearing each piece not so often can be resource intensive. But does it have to be? That was one of the questions explored by a number of designers.
Indeed, some probed the idea of how to make short-lived items environmentally acceptable. Or how to get more than one look from a single item. Or how to work with wastes, scraps that would ordinarily be landfilled or burned.
As an intellectual exercise, who couldn't appreciate at least the idea of pushing the fashion envelope in hopes of sparing the planet? Most of the actual clothes did not, however, appeal to my aesthetic (as in, I would NEVER wear them). Then again, I'm not the 20-something demographic these designers were targeting. And I must admit, the items they assembled were certainly no stranger than many of the togs developed on one of my favorite, guilty-pleasure reality shows: Project Runway. 
Some designers focused on natural fibers. Others tailored their designs out of what would normally be waste – from the discarded PET plastics used in milk bottles to the pieces of fabric normally left on the proverbial cutting room floor (those tiny or odd shaped leftovers from the yardage used to make conventional fashions).
Several selected materials that could be composted in the yard. And not just with the goal of improving the soil.
For instance, seeded into one set of baby-doll lingerie (dyed with turmeric and made from natural fibers) were – well seeds. The idea being that when the outfit was no longer in fashion or had seen better days, its owner could plant it. A few months later, what had been sheer, ruffled nightwear would now be the underpinnings of a rose garden. Explain the designers (Louise Bønsøe Dreyer, Pamela Pedersen and Nanna Tangaa Hansen), "By planting seeds that will grow into flowers, release oxygen and new seeds, we have created a positive environmental circle."
(This presumes, of course, that the owner won't wash the outfit, causing the seeds to sprout prematurely. Or hold onto the piece beyond the viability of the seeds.) But conceptually, I loved the idea of compostable clothes embedded with a garden-to-be.
Nadja Friis put thought into laundering, creating two design lines: "Use'n'Dump" and LongLife. As the name of the first implies, it's for faddish wear that isn't expected to survive more than a season. So Friis made if from a biodegradable (don't wash) jersey whose seams have been welded together to minimize production energy. The LongLife fashions have a more classic look and are constructed from durable natural fibers that can be laundered over and over.
My husband's favorite – and the judges' too (because this came in firs(t place) – was a menswear collection called "Clang Boom Steam" by Tobias Noe Harboe (who has a Reikall brand). It relied on natural colors (such as white, cream, navy and putty) and featured an updated take on classic Scandinavian jackets, shirts and pants. In this instance, one doesn't know quite what the "sustainability" features are since Harboe describes his fashions somewhat vaguely. The winning collection, he says, "is set on the backdrop of . . . the adventure of six time-travelling scientists" who move from 2030 back to 1799 "to save the planet from environmental collapse by steering the Industrial Revolution in a sustainable direction." Huh? At least these time travelers are moving in style.
The "Square Project" (by Siff Pristed Nielsen and Benedicte Holmboe) relies solely on square pieces of fabric cut the width of each bolt. So the only cutting would be a straight shearing of the non-selvage edges. Bottom line: Zero waste.
Pieces are also sort of unisexual, eliminating the need for having separate men's and women's departments in a store. One rack serves all, although the designers emphasize that their goal is not to dress men and women identically. In fact, each piece would have self-tailoring elements. By snapping, zipping, pulling draw strings or layering pieces differently, each gender could get its own look. Once again, the idea showed imagination and possibilities. By contrast, the actual execution was almost boring. There was what looked like a jacquard navy-blue cape over a light teal shirt. Tight cream and blue knit pants – they could almost be leggings – completed the ensemble. At least the fabric here looked substantial and comfortable.
Rainwear inspired some especially clever efforts. Like the "Rain without Pain" project (by Laura Locker and Katja Knudsen). The women found fabrics that change their appearances when wet, offering the wearer two distinct looks. The water repellent outer fabric may change color or become transparent when wet (which would allow the colored lining to now peak out). Explain the designers: "Many people get depressed when it is raining and they stay home or use the car . . . thus getting too little exercise and polluting the environment. With our raincoats, we want to change the way people experience the rain weather in Denmark, making it a positive experience." (Attention Seattle and Ketchikan, Alaska: Add these to the welcome-wagon basket for new residents and you might cut down mental-health bills for the precipitation-phobic.)
A second rainwear team (Lea Parkins Benjaminsen, Camilla Skott Christiansen and Randi Samonsen) created single-use, unisex raincapes to buy, as needed, from dispensers on the street. Made from a compostable starch embedded with flower seeds, wearers could don the stylish poncho for a day or so, and then bury it in the yard or some designated regional garden. The concept argues that sustainability need not require materials prized for longevity. If raw materials can be returned to the Earth fairly quickly, with no waste and no toxic materials used along the way, clothes might still be eco-friendly.
Another design team (Thea Cathrine Mølgaard Hestbjerg and Kamilla Edelgaard Lytzen Gitter) fashioned its "Ephemera" line of dresses and other indoor togs from "a foil of 100 percent ecological potato starch without any use of chemicals." Wear up to three times, then compost. Just don't get caught in the rain without a coat or your fashion may begin an untimely disintegration.
What the designers of such short-lived throwaway items didn't address would be how much shipping might be required to replace the ephemeral wardrobes of rain gear or other compostables, because there could be a substantial carbon footprint to moving these items from a central manufacturing facility.
Stefan Autzen's "Cut Off" line could almost be described as waste-not. He focused on ways to "green" the Swedish fashion retailer H&M, which clothes teens and 20-somethings in faddish wear. Although Autzen claims H&M manufacturers most of the fabrics it uses, the company's website says "H&M does not own any factories, but instead buys its goods from around 800 independent suppliers, primarily in Asia and Europe." Whatever. At issue, Autzen argues, is that "by creating a clothing line using their own production waste, which could be handmade and sewn, H&M may add a [new] dimension to their brand" – sustainable fashions that "deliver 'couture to the people.'" Uh, maybe. To do this, it had better upgrade its fabrics and add detailed attention to tailoring.
At a minimum, this exhibit was a pleasant way to spend an hour or so on a frigid, snowy day. It also offered plenty of food for thought.