ExoMars mission set to arrive at Red Planet on October 19
Lander will touch down on Mars and a spacecraft will go into orbit around planet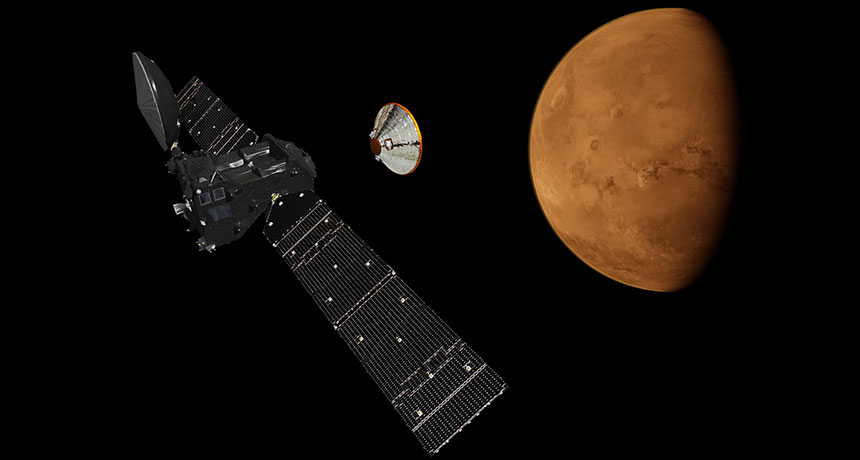 Mars is about to get another visitor. The European Space Agency's ExoMars mission arrives at the Red Planet on October 19. A spacecraft known as the Trace Gas Orbiter will go into orbit around Mars while a lander named Schiaparelli will touch down on the surface.
ESA will live stream the landing starting at 9 a.m. EDT on October 19.
The arrival ends a roughly seven-month journey. Schiaparelli, which separated from the orbiter on October 16, is expected to enter the Martian atmosphere at 10:42 a.m. and land in a plain dubbed Meridiani Planum about six minutes later. Parachutes will ease its entry and rockets will slow the lander down until it is about two meters from the ground, at which point it will drop the rest of the way, cushioned by a collapsible structure.
Schiaparelli will test technology needed for a future European Mars rover. The lander doesn't have a long-term power source, so it will last for only a few Martian days. But it is carrying a few scientific instruments, such as a camera and weather sensors.
The orbiter will stick around to study trace gases such as methane in the Martian atmosphere. It will eventually become a communication hub between Earth and another European Mars rover expected to arrive in 2021.