From the April 9, 1938, issue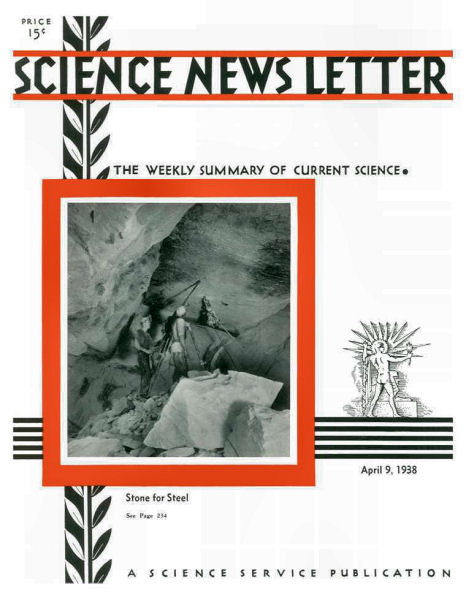 VAST UNDERGROUND WORKINGS SUPPLY LIMESTONE FOR STEEL
Limestone, necessary in the smelting of iron ore, must be mined just as is the iron and coal used in steel manufacture, now that surface workings have been exhausted. How the "hard rock men" who blast out the limestone work is shown in the photograph on the front cover of this week's Science News Letter. Two men are here shown, dwarfed by the great masses of limestone overhead, drilling in a back stope of the Muscoda Limestone Mine, near Birmingham, Ala. This mine produces 130 tons of limestone per hour during busy seasons, all of which is shipped for use in the nearby smelters.
Science News headlines, in your inbox
Headlines and summaries of the latest Science News articles, delivered to your email inbox every Thursday.
Thank you for signing up!
There was a problem signing you up.
TINY PHOTOFLASH LAMP AVAILABLE TO PHOTOGRAPHERS
Subscribe to Science News
Get great science journalism, from the most trusted source, delivered to your doorstep.
A photoflash lamp so small that 18 of them can be carried in a man's coat pocket is now available to America's host of photographers.
Designed for exceptionally economical use—a special filament burns out before the metal foil burns, thus saving current—the new vest pocket bulb is adapted for use with miniature cameras, the Westinghouse Electric and Manufacturing Company, its maker, declares. It burns with a longer flash than prevailing types, thus making synchronization with the camera's shutter easier.
MILLION-MILE PROMINENCE RISES FROM SUN'S SURFACE
Rising a million miles from the surface of the sun, the highest solar prominence ever recorded was observed by Mt. Wilson Observatory scientists on March 20, the Carnegie Institution of Washington has announced.
Reports of measurements made by Dr. Edison Pettit on photographs of the prominence indicate that a gigantic mass of erupting calcium and hydrogen gas rose nearly vertically from the sun that morning at speeds first of 40 miles per second, then 80 miles per second, and when last noted, 124 miles per second. Photographs of this eruption were taken by J.O. Hickox.
When last observed the solar prominence had risen to 970,000 miles above the surface of the sun and was still rising. Clouds interfered with further observations. The greatest height hitherto observed for a prominence is 621,000 miles, recorded at the McMath-Hulbert Observatory at Lake Angelus, Mich., on Sept. 17, 1937.
The prominence rose from a point near the sun's north pole and during the earlier stages of its development sent streamers of luminous gas back to a center of attraction about five degrees from the pole.
"THERMOS BOTTLE" BURIALS FOUND IN ARIZONA RUINS
Indians in the Southwest over a thousand years ago didn't have thermos bottles, but they invented a burial fashion that looks curiously like one.
Discovery of this heretofore unknown type of Indian burial, consisting of a bottle within a tube, is reported by Carl F. Miller, Tucson archaeologist.
Mr. Miller was digging at ruins of a settlement near here, where Hohokam Indians once lived in pit dwellings, when he discovered queer looking tubes of adobe. Inside the tubes he found urns or bowls of pottery. And inside the urns were bones of cremated Indians.
When the Indians had deposited the urn in the adobe tube, they sealed it with an adobe stopper, making a solid column.
Mr. Miller was impressed by the excellence of the pottery, most of it being well shaped and undecorated.