From the August 19, 1933, issue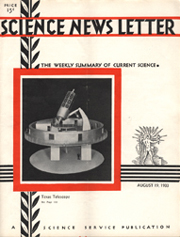 CONSTRUCTION BEGUN ON 80-INCH TEXAS TELESCOPE
The giant 80-inch reflecting telescope that will spy upon the stars from McDonald Observatory, to be erected on a peak of Davis Mountains, Texas, is now under construction.
A contract for the telescope has been approved by the University of Texas board of regents, and Warner and Swasey Company of Cleveland are the builders, it has been announced by Dr. Otto Struve, joint director of the Yerkes and McDonald Observatories.
McDonald Observatory, with its 80-inch telescope which will be exceeded in size only by the present 100-inch Mt. Wilson reflector and the projected 200-inch California Institute of Technology telescope, is a joint undertaking of the University of Texas and the University of Chicago. With a bequest left by William J. McDonald, the University of Texas will erect and maintain the observatory, while the University of Chicago, utilizing the experience of its Yerkes Observatory at Williams Bay, Wis., will staff and operate the new observatory.
SPOT LARGER THAN EARTH BREAKS OUT ON SATURN
A large white spot, so immense that it could engulf an object over twice the diameter of the Earth, has appeared suddenly on the equator of Saturn, the ringed planet and second largest of the solar system.
It was discovered by John E. Willis, U.S. Naval Observatory astronomer, at 12:18 a.m. Saturday (Aug. 5) while he was observing a transit of Saturn as a routine operation, using the fixed 6-inch telescope. Although he observed the planet for only about a minute before it left the field of view, Mr. Willis recognized the spot and called upon other astronomers at Uncle Sam's observatory to check his discovery. Principal astronomer H.E. Burton turned the observatory's famous 26-inch telescope and a smaller 12-inch telescope upon the planet and confirmed the discovery. B.P. Sharpless also made confirming observations.
Subscribe to Science News
Get great science journalism, from the most trusted source, delivered to your doorstep.
ARTIFICIAL BLOOD IN DOGS SHOWS RED CELLS GUARD HEMOGLOBIN
The red cells of the blood in man and the domestic animals act as guardians of hemoglobin. Their chief function is to prevent the escape of this precious stuff on which the body depends for its supply of oxygen.
These are the conclusions reached by a group of scientific investigators at the University of Tennessee College of Medicine in Knoxville, Drs. William R. Amberson, Arthur G. Mulder, Frederic R. Steggerda, James Flexner, and David S. Pankratz. A preliminary report of the research appears in Science.