From the August 4, 1934, issue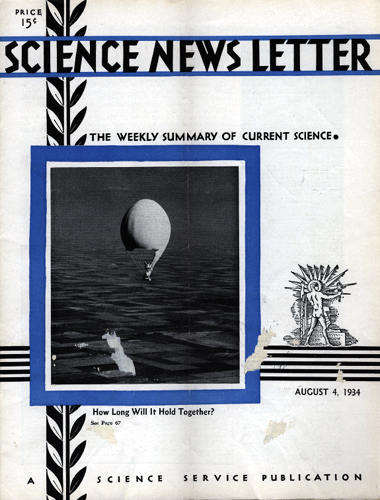 STRATOSPHERE HOP EXPERIENCE SUGGESTS USE OF ROBOTS
Stratospherists Kepner, Stevens, and Anderson: Let us all hope that you have the chance to probe the stratosphere again. Although thrilled by your adventures, we hope next time you have a softer and slower landing.
While this elaborately planned National Geographic-U.S. Army flight is having its results written into aeronautic and scientific history, consideration should be given to the possibility of allowing robots, inanimate instruments that speak by radio, to undertake the hazardous task of rising higher than man can go to report on conditions in the stratosphere.
Science News headlines, in your inbox
Headlines and summaries of the latest Science News articles, delivered to your email inbox every Thursday.
Thank you for signing up!
There was a problem signing you up.
MIDWEST DROUGHT SHOWS UP IN WATER LEVELS OF RIVERS
Subscribe to Science News
Get great science journalism, from the most trusted source, delivered to your doorstep.
The unparalleled drought in the Midwest, soon to enter its fifth month, is showing up in the water levels of the great rivers—the Mississippi, the Missouri, the Arkansas, and the Red—which are approaching new low marks at many stations.
At the Little Rock River gauge on the Arkansas, readings are the lowest in the history of the station. The readings, prosaically told in Weather Bureau tables as minus 3.2 feet, reflect what is happening in the 158,000 square miles of land drained by the river above this point.
At St. Louis, where river height records go back 74 years to 1860, the gauge reading is the lowest for the month of July in the history of the station. And the same statement holds for the past 4 months of March, April, May, and June.
The Mississippi and its tributaries (principally the Missouri) above St. Louis drained 691,000 square miles of land now drought-stricken.
Down at Shreveport, La., on the Red River, levels are low for July but a bit above the all-time low recorded in November 1932. Sixty thousand square miles of land are drained by the Red River at this point.
EXPERIMENT WITH CHEMICAL FOR DISSIPATION OF FOG
When Massachusetts Institute of Technology scientists sprayed fog away experimentally by means of a chemical shower, it was the latest of many experiments aimed at conquering fog.
The problem of fog dissipation has become more important with the increasing use of airplanes. Flying is impossible or dangerous when fog covers landing fields. But even before air transportation became important, scientists were fighting fog.
As yet, Henry G. Houghton Jr., who conducted the MIT fog-spraying tests at Round Hill, Mass., has not told the compositions of the chemical solution sprayed as a curtain of tiny drops to drive the fog away from a limited volume of space.
The trick of the spray is to condense the water vapor making up the fog and make it fall to the ground as a fine rain. Such a scheme will be effective for a very limited area.