From the December 31, 1932, issue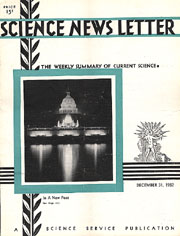 SIX COLORS MIX IN WATER AT BASE OF CAPITOL
One of the most spectacular fountain lighting systems places the Capitol at Washington in a new setting, when the building is viewed from the direction of the Union Station.
Engineers describe the recently installed system as a fixed color installation. Water in the fountain and terrace plays over a combination of six colors. Considering the size of equipment and electric power consumption, this is one of the largest installations of its kind, according to the Westinghouse Electric and Manufacturing Co., which supplied the photograph.
Science News headlines, in your inbox
Headlines and summaries of the latest Science News articles, delivered to your email inbox every Thursday.
Thank you for signing up!
There was a problem signing you up.
SCIENTISTS DISCOVER HOW TUBERCULOSIS GERMS MULTIPLY
Subscribe to Science News
Get great science journalism, from the most trusted source, delivered to your doorstep.
The exact way in which a single tuberculosis germ multiplies into three or more new germs has been observed by Prof. Morton C. Kahn of Cornell Medical College, New York City. He described the process before the meeting of the American Association for the Advancement of Science.
Bacteria or germs have a life cycle something like the egg, the pupa, and the butterfly. Professor Kahn was the first to work out that cycle for the tubercle bacillus.
The question of how disease-producing bacteria reproduce, or multiply into more bacteria, is one of the most important problems confronting present-day bacteriologists, he said. Some believe that the organisms multiply by simply splitting themselves in half. This is probably the method of a wide variety, but he found it was not the method of a tuberculosis germ.
The rod-shaped tuberculosis germ cleaved into three or more oval bodies, which became further reduced in size to extremely fine granules. From these tiny granules very small and delicate rod-shaped types developed. These rods finally elongated and thickened until they became the same size and shape as the tubercle bacillus from which they started. These new, rod-shaped tuberculosis germs were able to produce typical tuberculosis in guinea pigs.
ULTRAVIOLET LIGHT REVEALS STRANGE WORLD TO INSECT EYES
Ultraviolet, invisible to human eyes, is visible to the eyes of insects, but red, visible to us, is not a color to them. This radical difference in color vision gives the world a vastly different appearance to insects.
How insects may look to each other through their ultraviolet-seeing eyes was demonstrated at the meeting of the American Association for the Advancement of Science by Dr. Frank Lutz and Richard Burlingame of the American Museum of Natural History. The two entomologists displayed a series of butterfly and moth photographs taken by ultraviolet light, together with a specially prepared scale of ultraviolet "color" values.