From the December 7, 1935, issue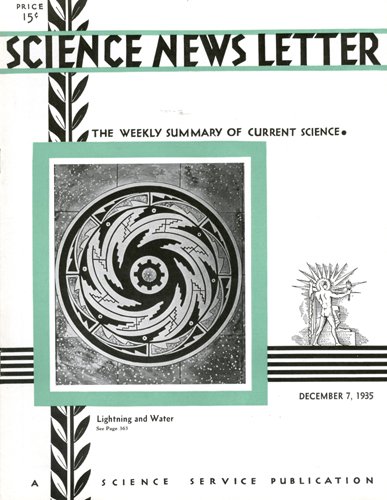 INDIAN ART TO ENLIVEN BOULDER DAM POWER HOUSE
Old and new America will combine at Boulder Dam, when artists get to work with Indian designs.
In the control room, where workmen regulate tremendous forces of electricity and huge bodies of water, the expanses of gray wall are to be enlivened with Indian symbols of cloud and rain.
One of the designs, reproduced on the cover of this week's Science News Letter, is taken from a prehistoric Indian bowl found on the site to be submerged by the new lake. It contains symbols for lightning (the step-like figures), clouds, water, and mesas.
Science News headlines, in your inbox
Headlines and summaries of the latest Science News articles, delivered to your email inbox every Thursday.
Thank you for signing up!
There was a problem signing you up.
Consulting artist Allen Tupper True, of the Bureau of Reclamation, has been studying Indian pottery designs, basketry patterns, and sand paintings to adapt Indian symbols that represented natural forces. Indian motifs, he declares, offer possibilities superior to those of classic Greek and Egyptian.
Ten colors that predominate in Navajo rugs and Pueblo ceremonial sashes have been chosen. These colors, flung against vast areas of gray concrete walls, will be deep, warm blue, black, brown, a concrete gray, warm white, jade green bordering on turquoise, brilliant deep red, vermilion, orange, and yellow.
Subscribe to Science News
Get great science journalism, from the most trusted source, delivered to your doorstep.
NEW PRESSURES MAKE ICE HOTTER THAN BOILING WATER
Discovery of two kinds of ice, one of them hotter than boiling water, a number of previously unknown forms of metals and other substances, and a change in the properties of soft granite so that it temporarily becomes diamondlike and capable of scratching glass-hard steel was announced at Harvard University by Prof. Percy W. Bridgman, as a result of recent high pressure research. (Physical Review, Nov. 15)
The discoveries were made with the aid of radically new apparatus that enabled Dr. Bridgman to conduct routine experiments at a pressure of 50,000 atmospheres and upon occasion to reach the tremendous pressure of 1 million pounds to the square inch, or 70,000 times the ordinary pressure of the atmosphere.
VITAMIN A FOUND TO AID IN FORMATION OF VISUAL PURPLE
First definite evidence of a vitamin participating directly in a physiological process has been found by Dr. George Wald, of the Harvard University Biological Laboratories, who has conclusively proved that the fat-soluble vitamin A found in milk and fish-liver oils is present in the retina of the eye and is active in vision.
In the course of this research Dr. Wald also discovered a heretofore unknown yellow pigment that he has named retinene. Like vitamin A, this substance is related to the carotenoids, the coloring matters of many plant and animal tissues. Retinene, he found, is liberated by the action of light on the eye.