From the February 19, 1938, issue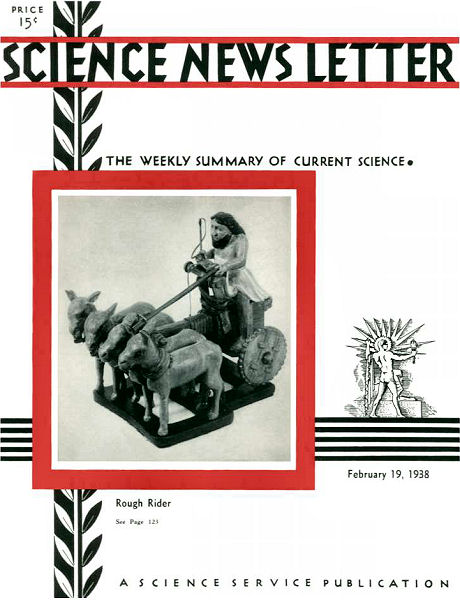 REAL TOUGH ROUGH RIDERS WERE SUMERIAN CHARIOTEERS
Strong though the temptation is to call the bearded charioteer pictured on the front cover "Ben Hur of Ur," it would not be quite accurate to do so. For the little statuette comes not from the famous Chaldean city but was dug up at Tell Agrab, near Baghdad. Probably, though, Ur's warriors drove to battle in just such jolting war-chariots behind teams of four scampering donkeys.
Notable are the big copper studs that circled the wheels, tire fashion, and the driver's not-too-comfortable position astride a continuation rearward of the chariot pole. It is to be noticed especially that he is shown standing on the floor of the chariot—he probably didn't sit down much.
This interesting find, which dates from about 2800 B.C., was made by an expedition of the Oriental Institute of the University of Chicago.
From astronomy to zoology
Subscribe to Science News to satisfy your omnivorous appetite for universal knowledge.
HALF OF AVERAGE AMERICANS EAT THIRD-RATE DIET
Many an American family that would not buy second-hand furniture or wear second-hand clothes is eating a third-rate diet. This is apparent from a survey of typical food expenditures made by Dr. Hazel K. Stiebeling of the U.S. Bureau of Home Economics. The survey included 25,000 representative city, village, and rural families.
Size of the family pocketbook was not the only or perhaps even the chief factor responsible for the poor nutritional quality of the family's diet. At every expenditure level above $100 per person per year, some families were able to provide themselves with very good diets. The reason more families do not get good diets is chiefly because they do not know how to select the most nourishing foods for the money.
As might be expected, the tables of the well-to-do families were more frequently and more liberally supplied with milk, butter, eggs, fruits, and green and leafy vegetables. These are classed by nutritionists as the "protective foods" because they protect against such serious ills as rickets, beriberi, and scurvy and also against numerous minor degrees of ill health and undernutrition. Families spending less than $85 per year per person for food, as might be expected, got very poor diets.
At the median expenditure level, however, which is $130 per person per year, almost one-half were eating a third-rate diet and nearly another fifth a very poor diet. At this expenditure level a little over one-fifth of the families had a first-rate diet.
Three-fourths of the families were at $100 or more expenditure level, but less than one-third of them were selecting very good diets.
EARLY AMERICAN INDUSTRIAL TOWN MADE "BARGAIN" WARE
Ruins of an ancient American trade town, where Indians turned out cheap pottery bowls for traveling salesmen to handle, have been unearthed in the tropics in northeast Honduras, by a Smithsonian-Harvard University joint expedition. The Smithsonian Institution has just issued a report of the expedition, which took place in 1936.
The town unearthed sheds light on industrial life of aboriginal America. Evidence that mass production was tried in those days is found in quantities of broken pottery, some decorated in the "factory" method of stamping the design.
Indian businessmen of the town lived well, judging by two house floors unearthed by the expedition. The plastered floors were stained red. Fragments of plaster, apparently from walls, show redecoration in successive layers of red, yellow, red, blue-gray, and red.
The town is identified as Naco, visited by Spanish explorers in 1526. Spaniards found it a flourishing place of 2,000 houses and about 10,000 natives, with Aztec traders from Mexico bargaining for goods in the shady city square. Ten years later, Naco was reduced to a pitiable handful of 45 Indians, the rest having been killed, enslaved, or driven into the hills.
The expedition, which has made preliminary exploration of the earth-covered ruins, consisted of Dr. William D. Strong of the Smithsonian, and Alfred Kidder, 2d, and A.J. Drexel Paul, Jr., of the Peabody Museum of Harvard.