From the January 10, 1931, issue
ANTHROPOLOGIST IS ELECTED NEW A.A.A.S. PRESIDENT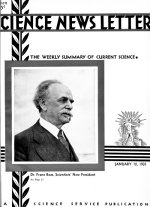 Dr. Franz Boas, noted anthropologist of Columbia University, was elected president of the American Association for the Advancement of Science for 1931, during the Cleveland meeting. Dr. Boas is one of the leading figures in the field of anthropology. He has been engaged in this work throughout a very long and active career.
THEORIES OF UNIVERSE SHAKEN BY DISCOVERIES AT HARVARD
Wanted: a new theory of the universe.
Science News headlines, in your inbox
Headlines and summaries of the latest Science News articles, delivered to your email inbox every Thursday.
Thank you for signing up!
There was a problem signing you up.
Dr. Harlow Shapley, director of the Harvard College Observatory, reported to the American Association for the Advancement of Science in Cleveland a gigantic probing of the depths of the universe that shows that the galaxies, which are immense systems of stars, are scattered irregularly instead of uniformly throughout the great sphere of space that can be reached by the astronomical telescopes of today.
And that upsets the most-favored conceptions of the universe around us.
Subscribe to Science News
Get great science journalism, from the most trusted source, delivered to your doorstep.
EFFECT OF GLANDULAR SECRETIONS ON SEX DISCUSSED BY
SCIENTISTS
The latest information on sex, as it is influenced by glands, was exchanged by scientists engaged in many different institutions when they gathered in Cleveland at the meeting of the American Association for the Advancement of Science.
Underdevelopment of the essential physical basis of femininity may be corrected by an extract from a small gland located under the brain, researches by a University of Wisconsin team of three workers indicate. They are Dr. H.L. Fevold, Dr. F.L. Hisaw and Dr. S.L. Leonard. An extract from the front part of the hypophysis, a small, ductless gland whose function was for many years a riddle, was found to promote very powerfully the development of the female sex glands in rats. Immature females less than 4 weeks old were brought to sexual maturity in 3 days by a series of injections of this extract. Continued injections after this point proved too much of a good thing; they provoked a great overgrowth of the ovaries.