From the January 9, 1932, issue
DR. ABEL OF JOHNS HOPKINS ELECTED NEW AAAS HEAD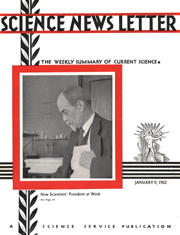 Dr. John J. Abel, professor of pharmacology at the Johns Hopkins Medical School, Baltimore, has been elected president of the American Association for the Advancement of Science for 1932. This action was taken at the annual meeting of the Association in New Orleans. Dr. Abel succeeds Dr. Franz Boas, noted anthropologist at Columbia University.
ANIMAL IMMUNIZED AGAINST PARASITE FOR FIRST TIME
Successful immunization of an animal against a many-celled parasite has been accomplished for the first time in history, and this feat may be the first step toward the development of a preventive of tapeworm and other unpleasant parasitic infections in human beings, it was revealed in a report to the American Association for the Advancement of Science.
Science News headlines, in your inbox
Headlines and summaries of the latest Science News articles, delivered to your email inbox every Thursday.
Thank you for signing up!
There was a problem signing you up.
Prof. Harry M. Miller Jr. of Washington University, St. Louis reported that by injecting portions of a tapeworm into rats, it is possible to prevent the development of tapeworms from eggs fed later to the rats so protected. The worm lives in the intestine of the rat and has thus baffled by this immunization injection its larval stage in the liver of the rat.
Although it has been possible to immunize and protect animals from disease caused by typhoid and many other one-celled bacteria, more complex invaders have not hitherto been stemmed by any attempts at immunization. Prof. Miller's research is therefore hailed as encouraging.
Subscribe to Science News
Get great science journalism, from the most trusted source, delivered to your doorstep.
VITAMIN PREPARED CHEMICALLY FOR FIRST TIME IN HISTORY
A vitamin has been manufactured in the laboratory by strictly chemical methods for the first time in history, Drs. Charles E. Bills and Francis G. McDonald of the Mead, Johnson & Co. Research Laboratories, Evansville, Ind., have reported to the American Association for the Advancement of Science.
They synthesized vitamin D, the so-called sunshine vitamin, by treating ergosterol with nitrogen monoxide gas and obtained the potent vitamin without the use of ultraviolet radiation. At present vitamin D is made by shining ultraviolet light on ergosterol, whereas before the relationship between vitamin D and sunshine was discovered five years ago, children had to take cod liver oil to obtain vitamin D that prevents rickets.
The synthesis of the vitamin is carried out in solution with methyl alcohol, ether, and ethyl acetate at low temperatures and with rigid exclusion of oxygen.
An extremely pure noncrystalline preparation of vitamin D was described by Drs. Bills and McDonald. In company with four European laboratories, the American scientists have also produced crystalline vitamin D. The purest of these substances is claimed to be the most potent drug known.