From the July 1, 1933, issue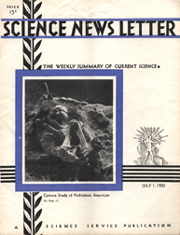 SEVEN MUMMIES FROM TEXAS CAVE BROUGHT TO
SMITHSONIAN
Seven mummies preserved apparently by natural dryness of the Texas cave where they were buried, have just been received by the Smithsonian institution. The mummies shed new light on the prehistoric cave dwellers of the Big Bend region of Texas whose cave shelters have been explored in recent years by Dr. Frank Setzler of the Smithsonian.
Among the seven bodies is one almost perfectly preserved. Its expression is almost life-like and the hands are crossed in a peculiar fashion under the head. Even the original method of hair dressing remains. The body was buried upright in a deep deposit of wood ashes, wrapped in a rabbit skin robe. A basket was placed over its head.
Science News headlines, in your inbox
Headlines and summaries of the latest Science News articles, delivered to your email inbox every Thursday.
Thank you for signing up!
There was a problem signing you up.
SUCCESSES IN ATOM SMASHING EVALUATED BY DR. MILLIKAN
Subscribe to Science News
Get great science journalism, from the most trusted source, delivered to your doorstep.
The success of recent atom-smashing experiments in upholding the famous Einstein equation for the equivalence of mass and energy gives fresh hope that the origin of cosmic rays in inter-galactic spaces is due to the building of heavy atoms out of energy-created hydrogen "cosmic ray dust."
Dr. R.A. Millikan of the California Institute of Technology re-assayed facts and theories in the light of recent developments when he presented to the American Association for the Advancement of Sciences Century of Progress meeting at Chicago new results from his famous Pasadena laboratories. Speaking from the same platform as Dr. F.W. Aston, the British chemist who may be called the father of the isotopes, Dr. Millikan observed that Dr. Astons success in measuring the exact masses of the elements gave the first quantitative information about the changes that occur inside the atomic hearts, which physicists are now studying so intently in order to solve the riddles of matter and energy.
ATOMIC BOMBARDMENT BREAKS UP MORE ELEMENTS
New successes in a new method of element transmutation were announced by Dr. J.D. Cockcroft, young physicist from Britains famous Cavendish Laboratory to the American Association for the Advancement of Science.
The idea that atomic particles have warlike properties and can force themselves into the hearts of atoms led to atom smashing that released very large amounts of energy. Lord Rutherfords first transmutations two decades ago were atom building without energy release.
Dr. Cockcroft first turned lithium and a projected hydrogen heart into two helium atoms. Now he announced the disintegration of boron into three helium atoms, the breaking up of fluorine into oxygen and helium and the change of beryllium into lithium and helium when bombarded with hydrogen.