From the July 7, 1934, issue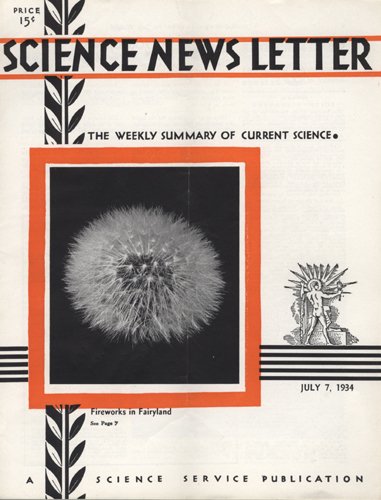 EYES UPON THE GROUND LOOK CLOSE AT BEAUTY
The advantages of humility find ready proofs in almost anything of which we can get an enlarged view from beneath—a worm's-eye view. Seen from such an angle, and with such magnification, even so common a thing as the hoary head of a dandelion becomes as spectacular as a white peacock's tail, as frozen fireworks in fairyland. The perfect specimen shown on the front cover of this issue of the Science News Letter was photographed by Cornelia Clarke. You see these flowers on every roadside, but who realizes their beauty?
SEX CONTROL SUCCEEDS WITH WARM-BLOODED ANIMALS
Subscribe to Science News
Get great science journalism, from the most trusted source, delivered to your doorstep.
One of the first apparently successful attempts at experimental sex control of warm-blooded animals has been reported from the Indiana University zoological laboratories.
Through injection and absorption of female sex hormones into more than 900 chick embryos, experimenters have been able to change the normal sex ratio of about 50 percent females to 64.78 percent females. With more complete control of experimental conditions, it seems possible theoretically to control almost without exception the sex of the embryos.
This means sex reversal from male to female through artificial control. The next step in the experiment will be to attempt the more difficult change from female to male.
JUPITER AND SATURN HAVE ATMOSPHERE OF DEADLY GAS
Life on the other planets, with the possible exception of Mars, is absolutely impossible. This has been shown by observations at Lowell Observatory of Jupiter and Saturn, which show their atmospheres to consist largely of methane and ammonia, deadly gases not widely found in nature here on Earth.
Dr. V.M. Slipher and Arthur Adel of the Lowell Observatory, Flagstaff, Ariz., have clinched the argument by use of evidence gathered by planetary spectrum photographs taken through telescopes and laboratory spectra of the gases.