From the June 17, 1933, issue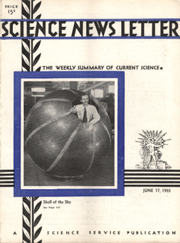 STRATOSPHERE SHELL PREPARED FOR NAVIGATORS
The little metal sphere that will be the stratosphere home of two men and scientific instruments for a few hours next month is rapidly being completed (SNL, May 27, '33, p. 323). It is pictured on the front cover with Dr. Jean F. Piccard emerging at the unfinished vertex of the "orange peel" sections of dowmetal, the magnesium alloy one-third lighter than aluminum.
The sphere is truly a shell of the sky. Though 7 feet in diameter, its metal sheeting is only one-eighth of an inch thick. The weight is 200 pounds, compared with 300 for the sphere used by Prof. Auguste Piccard last year. There are to be two manholes and eight portholes distributed so that vision will be free in all directions. The floor will be made of dowmetal, and a space 4 feet square is being left for the occupants.
Science News headlines, in your inbox
Headlines and summaries of the latest Science News articles, delivered to your email inbox every Thursday.
Thank you for signing up!
There was a problem signing you up.
ADRENAL CORTEX MAY REGULATE SALT AND WATER IN BODY
Subscribe to Science News
Get great science journalism, from the most trusted source, delivered to your doorstep.
The vital cortex of the adrenal glands may have an influence on the regulation of salt and water in the body similar to that of insulin on sugar, the parathyroid glands on calcium, and the thyroid gland on iodine. Evidence indicating that this may be the case was presented by Dr. R.L. Zwemer of the College of Physicians and Surgeons, Columbia University, at the meeting of the Association for the Study of Internal Secretions in Milwaukee.
The salt in this case is sodium. It is a loss of sodium from the body rather than any great increase in acid that produces the lower carbon dioxide combining power of the blood that is an early indicator of insufficient adrenal gland functioning, Dr. Zwemer believes.
AMERICAN PYRAMIDS SERVED AS TIMEPIECES, SURVEY SHOWS
Proof that Indians in Mexico built pyramids to serve as astronomical timepieces has been secured by a Mexican government archaeologist, Sr. Ignacio Marquina.
Thus the ancient pyramids of America are awarded astronomical significance that researchers have sought vainly in the Egyptian pyramids. Egypts pyramids are tombs but not timepieces, Egyptologists almost universally admit. Mexicos pyramids, on the other hand, are pedestals for high temples, and some at least are oriented to mark the passing of the sun and certain stars.
Sr. Marquina has demonstrated that the carved pyramid of Tenayuca, built by Aztec Indians, was a sun-dial that accurately marked the moment when the New Year began. The Mexican New Year was July 26.