Coronavirus and technical issues delay a Mars mission's launch
The joint European-Russian mission to launch the ExoMars rover was postponed to 2022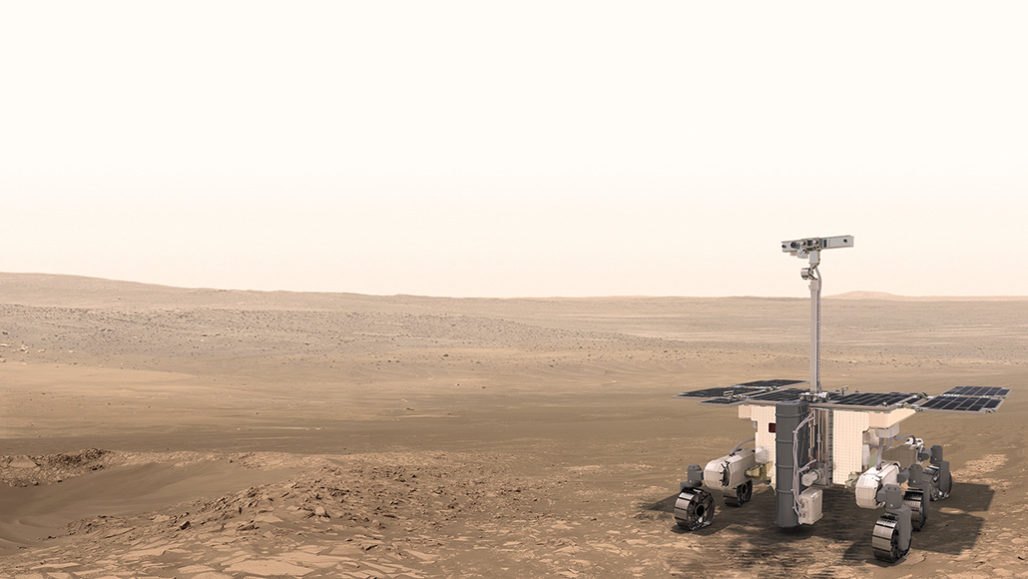 A joint European and Russian mission to Mars is being postponed from July until sometime in 2022, as the coronavirus pandemic is preventing scientists from resolving a few technical difficulties, the European Space Agency said March 12.
"We cannot fly in 2020," ESA director general Jan Wörner says. "This is a disappointment for me personally, and for the teams working. But it's better safe than sorry."
The ExoMars rover's team had already been considering a delay to solve problems with the rover's landing gear before the virus outbreak emerged. The parachute that will slow the rover's descent through the thin Martian atmosphere developed tears in earlier tests. A new design will be tested in the next weeks or months, Wörner says.
Other issues with the descent module's electronic equipment meant components have been sent back to Russia for repairs, he says. And more tests needed to get the rover ready for launch require team members to travel between Italy, France and Moscow — impossible for now amid new travel restrictions imposed in an effort to contain the spread of the coronavirus (SN: 3/11/20).
Science News headlines, in your inbox
Headlines and summaries of the latest Science News articles, delivered to your email inbox every Thursday.
Thank you for signing up!
There was a problem signing you up.
The launch was "at risk before all this [coronavirus] crisis came up," Wörner says. "The coronavirus has had an additional impact. But to be blunt, even if the coronavirus was not happening today, we would still postpone the launch."
The third spacecraft of the ExoMars mission (SN: 3/11/16), the rover will carry a drill to dig into the Martian surface in search of signs of present and past life. That mission goal inspired the team to name the rover Rosalind Franklin, after the English chemist who discovered the structure of DNA.
The team sent the mission's first two spacecraft, the Trace Gas Orbiter and the Schiaparelli lander, to Mars in 2016. But the lander quickly lost contact with Earth, possibly having crashed (SN: 10/20/16).
Postponing the Rosalind Franklin's journey involved "some very tough decisions," Wörner says. Mars' and Earth's orbits bring the planets close enough to launch spacecraft only every two years. The next chance to launch will be between August and October 2022.