After six years on the red planet and nine months stuck in a sand pit, the driving days are officially over for the Mars rover Spirit, NASA announced in a teleconference January 26.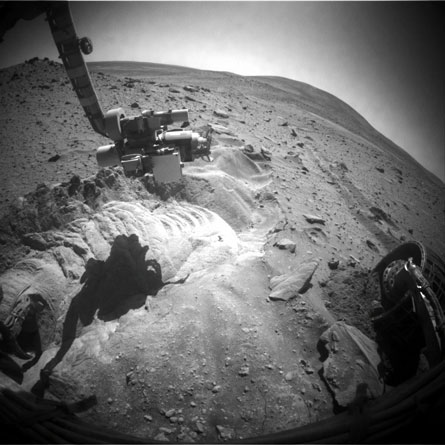 "We do not believe that [Spirit] is extractable," said Doug McCuistion of NASA headquarters in Washington, D.C., director of the Mars Exploration Program. "The mobility of this rover is complete."
The robotic geologist has been roving the planet since 2004, but slid into a sand pit in April 2009. A team of engineers spent the next six months testing strategies to free the rover, using a duplicate rover in a sandbox at NASA's Jet Propulsion Lab in Pasadena, Calif. Spirit began spinning its wheels again in November, but with the Martian winter approaching, the team is now shifting its focus to ensuring that the rover can survive with minimal sunlight for power.
"We're running out of time," said rover driver Ashley Stroupe of JPL.
The team will spend the next two or three weeks maneuvering Spirit into the best position for catching sunlight during the winter. The rover will probably enter hibernation mode in March or April and sleep until August or September, said project manager John Callas, also of JPL.
"This is a poignant moment for us," McCuistion said. But principal investigator Steve Squyres of Cornell University said that Spirit's stationary position offers exciting new scientific opportunities.
"This isn't just any old spot on Mars. We got stuck here for a reason, and that reason is this is bizarre soil," Squyres said. With less pressure to keep moving, Spirit can finally concentrate on characterizing its strange new environs. Scientists are also planning to study interactions between the Martian atmosphere and soil and to determine whether Mars' core is solid or liquid by using precise measurements of Spirit's position to track wobbles of the planet's spin axis.
"We're not giving up on Spirit," Squyres said. "Once springtime comes … we have exciting science planned."