From the May 18, 1935, issue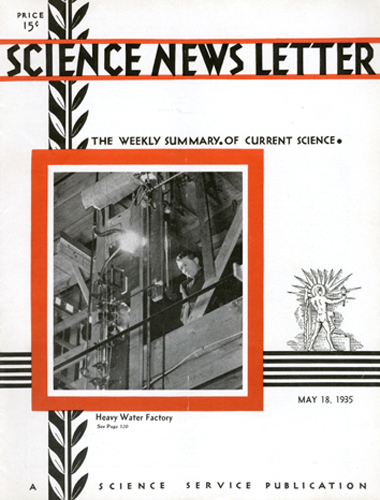 NEW METHODS FOR MAKING HEAVY WATER ARE PERFECTED
New and low-cost methods of manufacturing heavy water have been perfected at Pennsylvania State College.
In the illustration on the front cover of this week's Science News Letter, Prof. Harold C. Urey, Columbia University chemist, who received the Nobel Prize for discovering deuterium, or double-weight hydrogen, is shown inspecting the new apparatus.
Subscribe to Science News
Get great science journalism, from the most trusted source, delivered to your doorstep.
MULTIPLE SCLEROSIS LAID TO BLOOD THAT CLOTS TOO EASILY
Blood that clots too easily, a condition quite the reverse of hemophilia, the bleeding condition made famous because it afflicts members of European royalty, was put forward as the fundamental cause of the hopeless nerve disease multiple sclerosis.
Science News headlines, in your inbox
Headlines and summaries of the latest Science News articles, delivered to your email inbox every Thursday.
Thank you for signing up!
There was a problem signing you up.
Experiments indicating this blood abnormality plus such outside influences as injury or infection cause the mysterious nerve disease were reported by Drs. Philip Solomon, Mary E. Daily, and Tracy J. Putnam of Harvard Medical School and Boston City Hospital at the meeting in Atlantic City, N.J., of the American Society for Clinical Investigation.
Pinning the disease onto a blood condition gives an entirely new and possibly more hopeful approach to the attack on the disease, since medical scientists have till now concentrated their efforts on finding an infection or poison that might be the cause of the malady.
ROTATION OF MILKY WAY SHOWN FOR FAINT STARS AS WELL
New proof of the rotation of the galaxy, the system of stars including the Milky Way and all those that we can see in the sky through most telescopes, was presented to the National Academy of Sciences by Drs. Piet van de Kamp and A.N. Vyssotsky of the Leander McCormick Observatory of the University of Virginia.
Studying the motions across the sky of 18,000 intrinsically faint stars, they demonstrated for the first time that these "dwarf" stars are taking part in this rotation, as well as the bright "giants" with which previous studies of the kind have been mostly concerned.