Mice with a mutation linked to autism affect their littermates' behavior
Experiments show importance of social environment, not just genes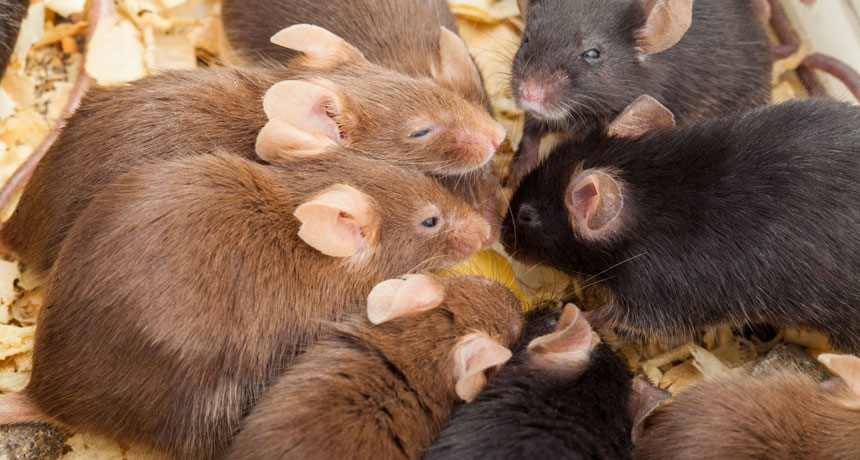 The company mice keep can change their behavior. In some ways, genetically normal littermates behave like mice that carry an autism-related mutation, despite not having the mutation themselves, scientists report.
The results, published July 31 in eNeuro, suggest that the social environment influences behavior in complex and important ways, says neuroscientist Alice Luo Clayton of the Simons Foundation Autism Research Initiative in New York City. The finding comes from looking past the mutated mice to their nonmutated littermates, which are usually not a subject of scrutiny. "People almost never look at it from that direction," says Clayton, who wasn't involved in the study.
Researchers initially planned to investigate the social behavior of mice that carried a mutation found in some people with autism. Studying nonmutated mice wasn't part of the plan. "We stumbled into this," says study coauthor Stéphane Baudouin, a neurobiologist at Cardiff University in Wales.
Baudouin and colleagues studied groups of mice that had been genetically modified to lack neuroligin-3, a gene that is mutated in some people with autism. Without the gene, the mice didn't have Neuroligin-3 in their brains, a protein that helps nerve cells communicate. Along with other behavioral quirks, these mice didn't show interest in sniffing other mice, as expected. But Baudouin noticed that the behavior of the nonmutated control mice who lived with the neuroligin-3 mutants also seemed off. He suspected that the behavior of the mutated mice might be to blame.
Experiments confirmed this hunch. Usually, mice form strong social hierarchies, with the most aggressive and vocal males at the top. But in mixed groups of mutated and genetically normal male mice, there was no social hierarchy. "It's flat," Baudouin says.
Raised and housed together, the mutated and nonmutated mice all had less testosterone than nonmutated mice raised in genetically similar groups. The testosterone levels in both types of mice were comparable to those found in females — "one of the strongest and most surprising results," Baudouin says.
The mice's social curiosity was lacking, too. Usually, mice are interested in the smells of others, and will spend lots of time sniffing a cotton swab that had been swiped across the bedding of unfamiliar mice. But when given a choice of strange mouse scent or banana scent, the nonmutated littermates spent just as much time sniffing banana as did the mutant mice.
Subscribe to Science News
Get great science journalism, from the most trusted source, delivered to your doorstep.
When Baudouin and colleagues added back the missing Neuroligin-3 protein to parts of the mutant mice's brains, aspects of their behavior normalized. The mice became interested in the odor from another mouse's bedding, for instance. These behaviors also shifted in the mice's nonmutated littermates. That experiment suggests that the missing protein — and the resulting abnormal behavior of the mutants — was to blame for their littermates' abnormal actions.
Still, it's hard to tease apart the mice's roles, says behavioral neuroscientist Mu Yang of Columbia University. "It is a shared environment, and there is no sure way to tell who is influencing whom, or whether both parties are being impacted."
Female mice that completely lacked the neuroligin-3 gene also influenced the behaviors of littermates that carried one mutated version of the gene, other behavior tests revealed. More experiments are needed to determine whether the social environment affects male and female mice differently, and if so, whether those differences relate to autism, says Luo Clayton.