From the November 2, 1935, issue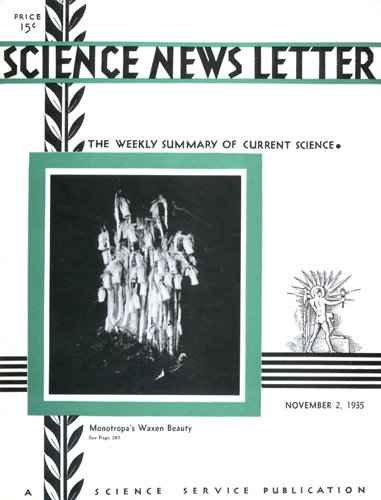 MONOTROPA'S WAXEN BEAUTY FEEDS ON DAMP DECAY
Indian Pipe, or Monotropa, a flowering plant that feeds saprophytically like a mushroom on dead and decaying plant remains, is a frequent find in moist autumn woods. The clump pictured on the cover of this issue of the Science News Letter is described by the photographer, Miss Mary L. Didlake of the Kentucky Agricultural Experiment Station, as "the largest clump I have ever seen, at least 75 separate stems. They were pink, lovely, and translucent, only the tips of the bells being white."
Science News headlines, in your inbox
Headlines and summaries of the latest Science News articles, delivered to your email inbox every Thursday.
Thank you for signing up!
There was a problem signing you up.
BETTER BRAKES NEEDED FOR MODERN MOTOR CARS
Subscribe to Science News
Get great science journalism, from the most trusted source, delivered to your doorstep.
Under the present conditions of road construction and braking ability, present-day motor cars "should be considered decidedly unsafe" when driven at their top speeds, declared Prof. R.A. Moyer, highway engineer of Iowa State College, before the 24th Annual Safety Congress.
Safety, considering motor cars alone, said Prof. Moyer, lies in maintaining low stopping distances. To provide the same stopping distance when traveling at 60 miles an hour as at 40 miles an hour requires brakes two and one-half times as powerful.
MAGNETIC ALLOY PROMISES BETTER RADIO LOUDSPEAKERS
A new magnetic alloy, whose permanent magnetism is so powerful that it will lift 60 times its own weight, was shown at the laboratories of the General Electric Company, on the first stop of the Tour of Industries sponsored by the engineering division of the National Research Council.
The purpose of the tour was to emphasize the importance of scientific research for industry, not only in developing new products and better ways of making old ones but also to replace testimonials and high-pressure selling, in the court of consumer acceptance, with scientific truth and tested realities, declared Maurice Holland, who organized the tour.
The new magnetic alloy is made of aluminum, cobalt, nickel, and iron, and will have important applications in the radio industry for the construction of high-quality radio loudspeakers at low cost.