From the November 8, 1930, issue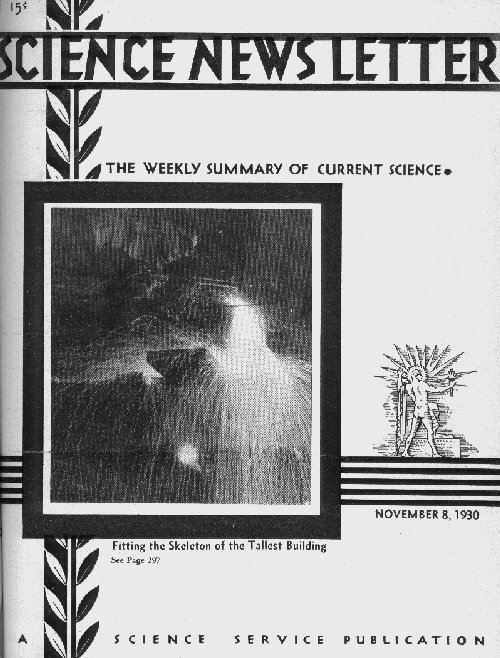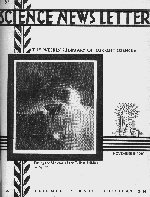 A touch of beauty found in the erection of the steel frame for the world's tallest structure is presented on the front cover as a photographic study of a steel-cutting torch at work. The picture was taken by Lewis W. Hine of Hastings-on-Hudson.
Subscribe to Science News
Get great science journalism, from the most trusted source, delivered to your doorstep.
With his oxy-acetylene torch the operator will halve the huge steel beam in just a few minutes, an operation that would require hours with a saw. This is a method of modern building that hastens the erection of skyscrapers.
The Empire State Building in New York City, on which the photograph was taken, will tower 1,248 feet above Fifth Avenue and Thirty-fourth Street. Eighty-four floors will rise to a height of 1,048 feet, and above this level there will be a mooring mast for dirigibles and an observation gallery. Work was begun March, 1930, and it is expected that the building will be completed by May 1, 1931.
ULTRAVIOLET REVEALS DETAILS SHORTER THAN VISIBLE LIGHT
A new method of taking photographs through the microscope, which will reveal about a fifth again as much as ones taken with ordinary methods, was announced by Dr. A.P.H. Trivelli, of the Eastman Kodak Co., and Leon V. Foster, of the Bausch and Lomb Optical Co., before the Optical Society of America meeting at the University of Virginia last week.
The new method involves taking the photomicrographs with ultraviolet light, which in itself is not new, but which has formerly required the use of special lenses of quartz or fluorite and special slides for the preparation of the material to be examined. For the short ultraviolet rays formerly used, glass is opaque, and so ordinary glass lenses and slides could not be employed.
PNEUMONIA MAY BE MORE THAN ONE DISEASE
"There is no one disease, pneumonia," declared Dr. Rufus Cole, director of the Hospital of the Rockefeller Institute, speaking at the Graduate Fortnight of the New York Academy of Medicine. Success in preventing the disease or diseases will not be realized until physicians are able to diagnose them according to cause and not according to anatomy.
Instead of one disease, pneumonia, a whole group of diseases of the respiratory tract exists. These differ among themselves in cause, in their effect on the tissues and body, and in symptoms.