Lingering in Lake Erie are millions of tiny pieces of plastics loaded with toxic pollutants, a new study finds. The results are part of the first study to look at the distribution and possible effects of plastic pollution in the Great Lakes.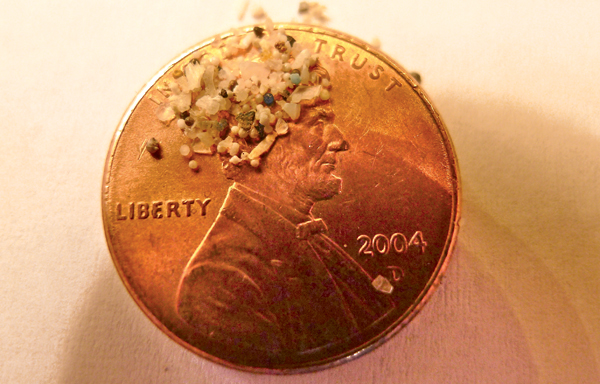 The results don't surprise Joel Baker, science director of the Center for Urban Waters at the University of Washington Tacoma. Plastic debris "is everywhere," he says.
Lorena Rios Mendoza of the University of Wisconsin-Superior and her colleagues combed the Great Lakes' waters for microplastics — pieces up to 5 millimeters across, or about as big as a BB gun pellet. When bigger pieces of plastic trash get battered by waves and baked by the sun, they break down into tiny bits. The researchers found that these microplastics make up about 80 percent of total plastic samples collected in Lake Erie.
Science News headlines, in your inbox
Headlines and summaries of the latest Science News articles, delivered to your email inbox every Thursday.
Thank you for signing up!
There was a problem signing you up.
Chemical analysis of the samples revealed varying levels of polycyclic aromatic hydrocarbons, or PAHs, and polychlorinated biphenyls, or PCBs, Rios Mendoza reported April 11 at the American Chemical Society meeting in New Orleans. The bits of plastic, which are basically "solid oil," says Rios Mendoza, take up the pollutants like a sponge.
It isn't clear whether the pollutants might affect fish or birds that eat the bits of trash. The pollutants may stay locked up in the plastic, says Baker, rather than leaching out into the water supply or wildlife. But that doesn't mean people have a license to litter, he says. The wide distribution of plastic in the world's waters means there are many, many sources of the debris. To limit plastic in the water, the supply would have to be shut down in multiple places.
"That means if you have better litter control on the shoreline," he says, "you can break the chain."