Saving primates with a dog and scat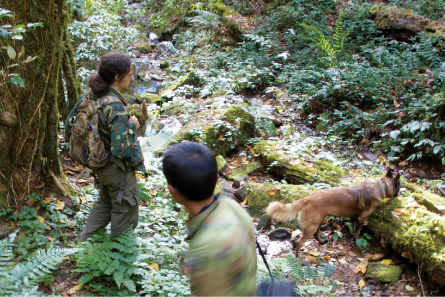 Joseph Orkin has found an unusual way to study highly endangered — and highly elusive — primates in southwestern China. Orkin hikes into isolated mountaintop forests accompanied by a four-legged assistant who avidly sniffs out scat left by black-crested gibbons and Phayre's leaf monkeys.
Orkin's fuzzy-faced helper answers to the name Pinkerton (like the detective agency). A Belgian Malinois with that dog breed's characteristic high-energy smarts, Pinkerton has been trained to recognize the odor of poop from the two threatened primate species. Orkin follows Pinkerton through the forest, and Pinkerton follows his nose to droppings hidden in the undergrowth. All the pooch wants in return is an occasional play break with his favorite ball, especially after flopping down to alert Orkin to some fecal prey.
"What I'm doing sounds a little crazy to some scientists, but Pinkerton has worked out well," Orkin says. Currently a graduate student in anthropology at Washington University in St. Louis, Orkin is also affiliated with China's Kunming Institute of Zoology.
Orkin and Pinkerton hear but rarely see gibbons and monkeys, as the animals usually flee from intruders. But one primate's dung is another's data. DNA extracted from retrieved poop will allow Orkin to reconstruct the recent evolution of each species, determine the frequency of potentially dangerous inbreeding in declining populations and formulate conservation strategies.
Two years ago, Orkin heard about U.S. groups that train scat-sniffing dogs for surveys of rare animals. Soon after, he bought Pinkerton from a Chinese police official who trains bomb-sniffing dogs, including those used in the 2008 Beijing Olympics. The official trained Pinkerton to associate the smell of gibbon and monkey droppings (supplied by Orkin) with playtime. Orkin then continued Pinkerton's education in the field.
The gregarious dog will return to the United States with Orkin in a year or two when the research in China is complete. —Bruce Bower

Subscribe to Science News
Get great science journalism, from the most trusted source, delivered to your doorstep.
Pinkerton the dog trains to be a field assistant by sniffing out primate scat from under roof tiles. When he detects one of the target species, Pinkerton drops to the ground to alert scientists.
Credit: Joshua Orkin