Tiny scales in ancient lagoon may be the first fossil evidence of the moth-butterfly line
Specialized drinking mouthparts might have evolved before the flowers moths now drink from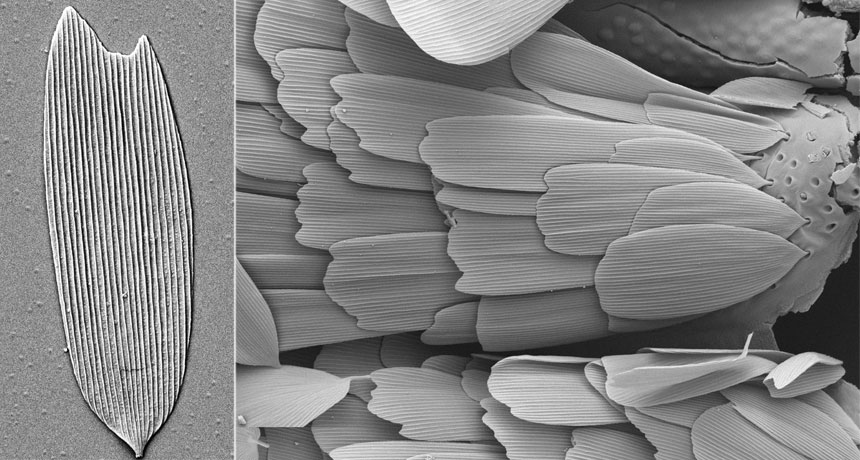 Newly described little scaly bits could push back the fossil record of the moth-and-butterfly branch on the tree of life by some 70 million years. That raises the question of whether the drinking-straw mouthparts evolved long before the flower nectar many drink today.
The microscopic ridged scales date from roughly 200 million years ago, around the time of one of Earth's less famous mass extinctions, says fossil-pollen specialist Bas van de Schootbrugge of Utrecht University in the Netherlands. During an unrelated study of ocean oxygen during this dire time, he and his colleagues pulled up cores of sediment in northern Germany near Braunschweig from what had once been a huge lagoon. In the sediment lay mere dots of insect scales.
Comparing the ridges and inner structure of the scales with those from modern insects suggests the fossils came from the evolutionary branch of insects that today gives us moths and butterflies with nectar-sipping mouthparts. No recognizable mouthparts appeared in the sediment. Yet the early existence of distinctive scales might mean this moth-butterfly drinking organ, a proboscis, evolved before the explosion of the classic flowering plants that offer nectar for pollination, van de Schootbrugge and colleagues propose January 10 in Science Advances.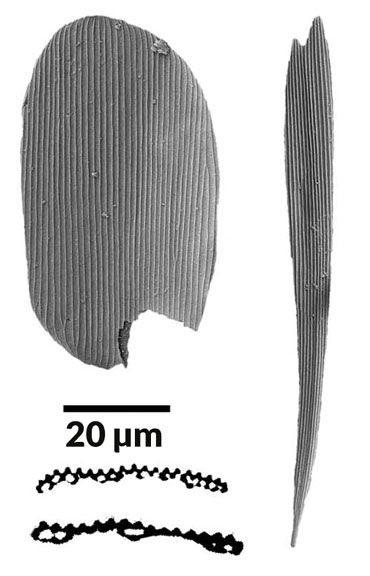 The land already had plants: ferns, mosses and their relatives growing under trees that formed just-about naked seeds, without cushy protective ovaries and other floral coddling. Naked-seeded plants, many of them wind-pollinated such as pines and other conifers, thrive today. But the great evolutionary burst of true flowers—magnolias, roses, legumes, asters and the whole multicolored rainbow — that many moths and butterflies pollinate had yet to arise.These fossils date from a turbulent time when the great land mass called Pangea was cracking into continents. As the Triassic Period ended and the Jurassic dawned, volcanic eruptions on the straining land spewed greenhouse gases and toxins that changed the atmosphere and climate.
The previous record-holder for earliest moth-butterfly fossils came from about 130 million years ago, a bit after a major expansion of flowering plants. But when coauthor Timo van Eldijk, also at Utrecht, compared the newly found insect scales with those from silverfish, beetles and other scaly insects, modern scales of a big branch of the moth-butterfly lineage proved the best match.
Subscribe to Science News
Get great science journalism, from the most trusted source, delivered to your doorstep.
In the times of the ancient scales, generally hot and dry conditions might have favored mouthparts specialized for drinking whatever liquids were to be found, the researchers propose.
Other work on how this proboscis evolved proposes that early moths started with chewing mouthparts and ate spores and pollen, says Harald W. Krenn of the University of Vienna. He and colleagues have proposed an intermediate phase of a short, tubelike structure good for slurping up droplets such as "honeydew" copiously excreted by sap-feeding aphids. A big question, though, is when early moths might have evolved such a drinking convenience.
The notion that the moth mouthparts arose before a big floral takeover sounds plausible to paleoecologist Conrad Labandeira of the Smithsonian Institution in Washington, D.C. Drinking-straw mouthparts had evolved in at least three other big insect groups (dipteran flies, lacewings and scorpionflies) somewhat before the full floral evolutionary extravaganza. Even some of the ancient naked-seeded plant groups, such as cycads, secrete nutritious droplets from reproductive structures that modern insects visit.
Interpreting the scales as a sign of an early moth proboscis is "possible," says taxonomist Erik van Nieukerken of the Naturalis Biodiversity Center in Leiden, the Netherlands, whose specialties include early moths. There are other possibilities, too, for imagining ancient moth mouthparts, he cautions. Saying definitely that the newfound scales reveal the dawn of the proboscis might be "a bit too quick."