An infectious disease that really wants to go global would do well boarding planes at JFK or LAX, according to a new computer simulation that ranks U.S. airports by their potential to kick-start an epidemic.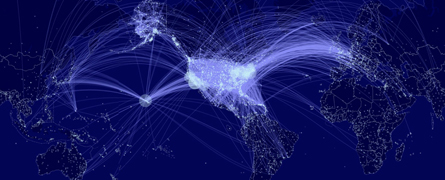 The simulation could help public health officials decide how and where to allocate resources such as vaccinations in the early days of an outbreak, says Ruben Juanes of MIT, who describes the analysis online July 19 in PLOS ONE.
Many simulations of how epidemics spread focus on the final outcome, such as how many people would ultimately be infected. This new work is mostly concerned with how the location of an initial outbreak affects the subsequent pandemic, says complex systems scientist Dirk Brockmann of Northwestern University in Evanston, Ill.
Surprisingly, the total number of passengers moving through an airport isn't the deciding factor. By that measure, Atlanta's airport — the busiest in the country — would be ideal for spreading germs. What's key is how connected the airport is to other well-connected airports.
"You are a good spreader if your neighbors are good spreaders," Juanes says. "That's what's really essential."
Once an epidemic is well under way, other factors such as how the germ moves from one person to another seem to be most important, he says.
Juanes and his colleagues used air travel data on all flights originating or landing in the U.S. from January 2007 to July 2010 to construct an air transportation network made up of 1,833 airports and roughly 50,000 connections. The researchers also extracted airport waiting times from passenger itineraries. Then they developed a computer program that incorporated information on people's travel patterns and how infectious diseases move from person to person.
The program ranks 40 major U.S. airports for how influential they are at spreading a disease originating in their home city. That New York City's John F. Kennedy International Airport came in first and Los Angeles International was second isn't so surprising. But third on the list is Honolulu International, which is only the 25th busiest airport in the country. Yet Honolulu is supremely positioned for sending sick people to myriad far-flung destinations. The airport is well-connected to massive hubs, it sends and receives travelers from both East and West, and its flight schedule is dominated by long-range routes.  
Atlanta's airport, on the other hand, ranked eighth. While it's very busy in terms of number of passengers, most of the travel to and from Atlanta is regional. The flights in and out are on the shorter side and are to places that aren't well connected, notes Juanes.
For passengers in the Washington, D.C., area, traveling via Dulles really helps germs out; it ranked seventh most influential. Baltimore's airport ranked 23rd and Reagan National 30th.