Twin towers fallout lingers
People near the World Trade Center during the 9/11 attacks show higher-than-normal rates of asthma, stress several years afterward
As many as 25,500 people have developed asthma after exposure to dust from the fall of the World Trade Center towers during the terrorist attack on New York City on September 11, 2001, a new report suggests.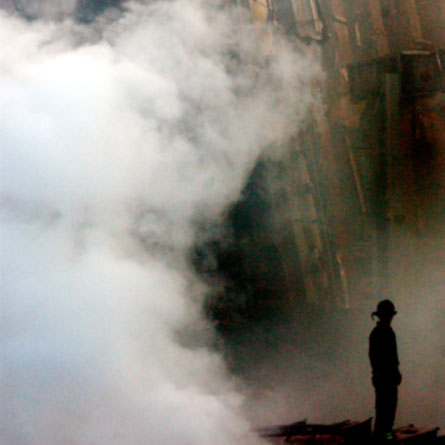 Even more people, an estimated 61,000, have experienced post-trauma stress and related mental health problems after witnessing the twin towers fall, researchers estimate in the study, published in the Aug. 5 Journal of the American Medical Association.
"This confirms what we are seeing," says Jacqueline Moline, a physician at Mount Sinai School of Medicine in New York City who runs a medical monitoring and treatment program for people affected by the tragedy. "The emotional side of this is not letting up."
Science News headlines, in your inbox
Headlines and summaries of the latest Science News articles, delivered to your email inbox every Thursday.
Thank you for signing up!
There was a problem signing you up.
About 409,000 people were in the vicinity when the towers came down on September 11. Using telephone, e-mail and in-person interviews, researchers created a health registry by surveying more than 70,000 of them in 2003 and 2004 and contacting 46,000 in a second survey in 2006 and 2007. Survey participants were all adults and included office workers, residents of the area, passersby and rescue workers.
The new data show that more than 10 percent of exposed people who did not have asthma before the attack developed the breathing disorder during the six years afterward. Normally less than 3 percent of the adult population would be expected to develop asthma over a six-year period, says coauthor Lorna Thorpe, deputy commissioner of the New York City Department of Health and Mental Hygiene.

Hardest hit were rescuers who worked on the rubble pile. The survey shows that 21 percent of those workers with no previous history of asthma have developed it since the disaster. Even among passersby with no history of the ailment — most of whom spent less than a day in the dust — asthma incidence is now nearly 9 percent.
While the number of new asthma cases among people in this registry declined between surveys, the percentage reporting post-trauma stress symptoms in the second survey was higher than in the first. Among those near the towers on September 11 who reported no traumatic stress before the attacks, 14 percent reported symptoms of it in the first survey and 19 percent in the second survey. About half of those reporting emotional stress several years after the event said they didn't seek care for it, suggesting their quality of life may be suffering, says study coauthor Robert Brackbill, an epidemiologist at the Centers for Disease Control and Prevention in Atlanta.
By extrapolating these data to apply to the 409,000 people in the towers' vicinity, the authors estimate conservatively that 25,500 people may have developed new asthma and 61,000 may have experienced post-trauma stress since the disaster.
"We've learned that after a major disaster of this magnitude — where people get injured or witness horrific events — their lives are impacted in a multiplicity of ways," Thorpe says. "They are all at high risk of mental health symptoms and post-traumatic stress, and it takes a really major toll on the function of their daily lives."
She said the study points to the need for public health authorities to protect first responders better and to establish screening programs to monitor people after disasters.
Subscribe to Science News
Get great science journalism, from the most trusted source, delivered to your doorstep.
The registry participants provide scientists with a group that may help to reveal the physical and mental health effects of huge disasters, Moline says. "And that can allow us to learn how best to treat people when another disaster occurs, whether man-made or natural."
A third survey is under way and the results will be available within two years, Brackbill says.