Here's what it will take to adapt the power grid to higher wildfire risks
Solutions include building microgrids, burying power lines and adding sensors to aerial lines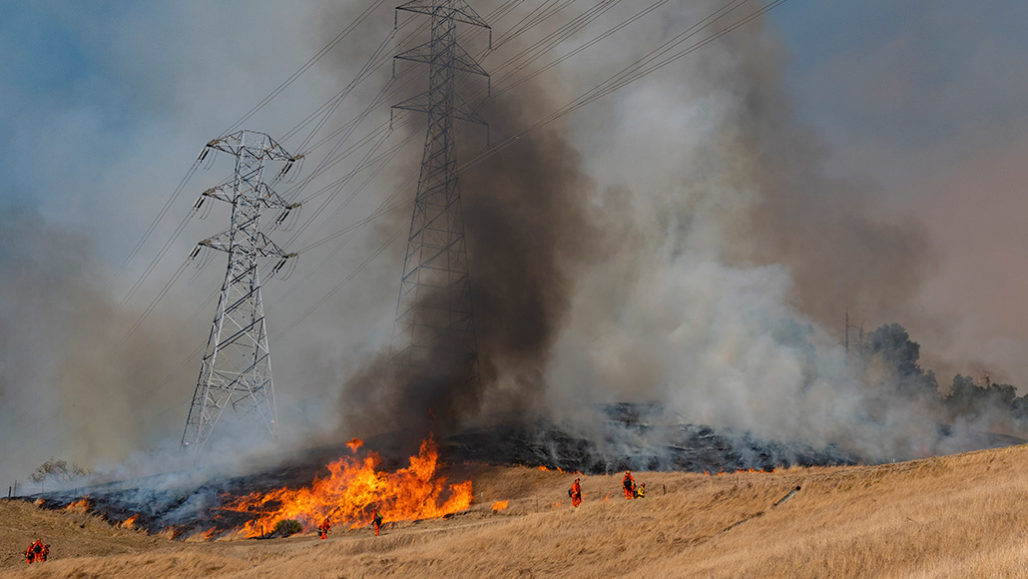 Efforts to prevent wildfires, which are once again raging across California, have plunged vast parts of the state into darkness.
Millions of people lost power in October in a series of deliberate blackouts intended to preempt power lines from sparking wildfires in especially dry, windy conditions. Cell towers died, leaving many without phone service. Traffic lights blinked out. Hospitals scrambled to keep lifesaving equipment running on backup generators.
While disruptive, the cautionary electricity outages starting October 9 were meant to ward off something even more disastrous. In 2017 and 2018, wildfire season caused record-breaking destruction. Hundreds of fires in California in 2018 alone are thought to have been sparked by equipment run by power supply companies. Many were relatively small and easily put out, but others were more catastrophic — including the deadliest fire in California's history, known as the Camp Fire, which killed more than 80 people and leveled the town of Paradise last November.
With wildfire risks increasing as climate change leaves the landscape increasingly parched (SN: 7/15/15), mass power outages could become the new normal — unless the electricity system can be made more fire-safe. Science News asked two experts in energy infrastructure how to improve the power grid so it poses less of a threat amid heightened wildfire risks.
Could burying power lines curb wildfire risks?
"Putting lines underground is a great solution. It's also very pricy," says Alexandra von Meier of the University of California, Berkeley. "Instead of a million dollars a mile, you're looking at 10 million dollars. In places where there's many miles of exposed or vulnerable terrain, that's a big price tag."
To avoid breaking the bank, though, utilities could bury lines only in areas that are particularly vulnerable to future wildfires, says Sayanti Mukherjee of the University of Buffalo in New York, who is working on a wildfire risk analysis for different counties in California.
Why don't blackouts target only areas with wildfire risks?
Power line networks are sprawling, ferrying electricity over long distances. California's biggest power company alone, Pacific Gas and Electric Co., supplies some 5 million customers in the state's central and northern areas. And while some communities spread farther into fire-prone woodlands and prairies (SN: 11/15/18), even customers in relatively fire-safe areas are still served by transmission lines that cut through tinderlike terrain, such as grass-covered hills. So those homes have to be unplugged as well.
The grid could be redesigned to feed electricity into smaller, more isolated "microgrids," Mukherjee says. "The key benefit of a microgrid is that it can go into 'island mode'" — disconnecting from the main power grid and switching to a local energy source in an emergency. "That way, we can prevent mass power outages for thousands of people who aren't even getting directly affected by the wildfires," she says. Today, microgrids are largely used by airports, university campuses or companies, and typically rely on gas or diesel backup generators.
How do we know where it's safe to keep the power on?
Historically, utilities "have relied a lot on physical inspections" of vast power line networks, von Meier says. "There's now really a movement to begin to apply more advanced computer science techniques" to analyze data about electrical activity across the grid to identify remote disturbances, such as tree branches getting too close to power lines. Plants touching electrical equipment sparked at least one of the blazes that contributed to the Camp Fire inferno.
Sensors installed along power lines could monitor environmental conditions, such as wind and air temperature, which can raise alarms about possible new fires or warn where they might spread (SN: 9/9/18).
How soon can we expect to see changes in the power grid?
Subscribe to Science News
Get great science journalism, from the most trusted source, delivered to your doorstep.
"I'm expecting to see more power shutoffs, and to see that continue next year and the year after," says von Meier, who is working with colleagues to develop a microgrid system where multiple homes on a city block could share energy from household solar panels. Meanwhile, there are microgrid pilot projects, such as the San Diego Gas and Electric Company's microgrid in Borrego Springs, which can function independently during power outages.
But replicating such efforts in more places "does take time, and it does take money," she says. "It will be a decade before they're widespread."