Wiping out gut bacteria impairs brain
Nerve cell production, memory affected in mice treated with antibiotics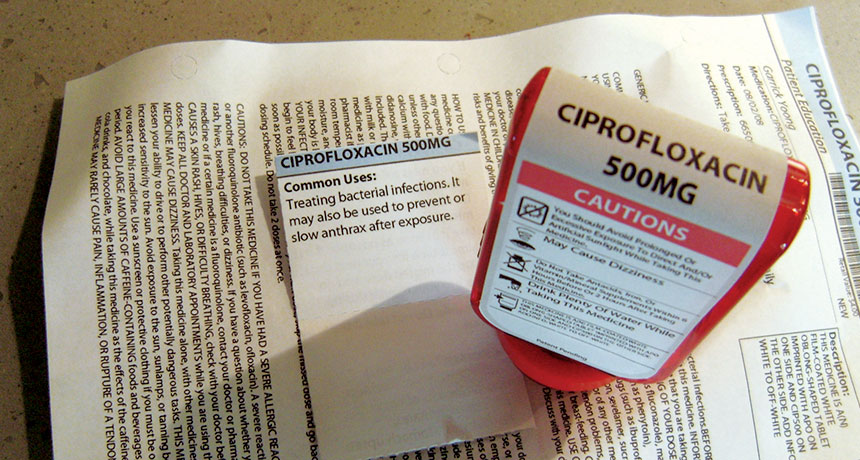 Obliterating bacteria in the gut may hurt the brain, too.
In mice, a long course of antibiotics that wiped out gut bacteria slowed the birth of new brain cells and impaired memory, scientists write May 19 in Cell Reports. The results reinforce evidence for a powerful connection between bacteria in the gut and the brain (SN: 4/2/16, p. 23).
After seven weeks of drinking water spiked with a cocktail of antibiotics, mice had fewer newborn nerve cells in a part of the hippocampus, a brain structure important for memory. The mice's ability to remember previously seen objects also suffered.
Science News headlines, in your inbox
Headlines and summaries of the latest Science News articles, delivered to your email inbox every Thursday.
Thank you for signing up!
There was a problem signing you up.
Further experiments revealed one way bacteria can influence brain cell growth and memory. Injections of immune cells called Ly6Chi monocytes boosted the number of new nerve cells. Themonocytes appear to carry messages from gut to brain, Susanne Wolf of the Max Delbrück Center for Molecular Medicine in Berlin and colleagues found.
Exercise and probiotic treatment with eight types of live bacteria also increased the number of newborn nerve cells and improved memory in mice treated with antibiotics. The results help clarify the toll of prolonged antibiotic treatment, and hint at ways to fight back, the authors write.