Real News: An Endangered Species
As a member of the Fourth Estate, it has been depressing to hear, month after month, about job cuts throughout the news industry. The morbidity of American journalism has come to rival that of the banking and auto industries. Yet you hear little about these "paper cuts" because those who manage news organizations don't like to report on how sick they are, how they got that sick, and what parts of their bodies they're amputating to keep the whole organism from dying.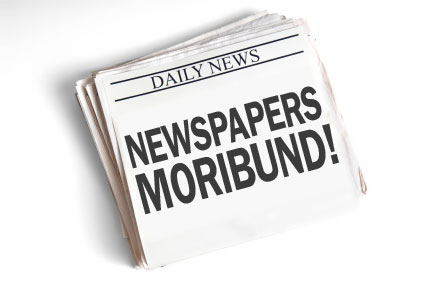 One sign of the problem: Yesterday, Gannett Co. announced a new round of layoffs, buyouts and forced retirements. The one-day tally: 600. Gannett reporters are blogging about insider memos and reports. Together, they suggest that before the week is over, this bloodletting could reach 3,000. Ouch!
Gannett, the owner of USA Today — the nation's largest circulation daily paper — is a behemoth. It not only publishes 85 daily papers around the country, but also another nearly 900 non-daily publications. But Gannett is hardly the only news organization that has been cutting staffs. Yesterday, Cox Newspapers announced it will close its Washington, D.C. bureau for national and international news on April 1. No foolin'.
Science News headlines, in your inbox
Headlines and summaries of the latest Science News articles, delivered to your email inbox every Thursday.
Thank you for signing up!
There was a problem signing you up.
On Oct. 1, New Jersey's largest local daily, the Newark Star-Ledger, announced that 200 of its staff — some 40 percent — had accepted buyouts to help the ailing paper avoid extinction.
In September, the Dallas-based A.H. Belo Corp. reported it would be eliminating jobs at three of its papers: The Providence Journal would lose 22 people, the Dallas Morning News would drop 270, and 120 people would be severed from the Press-Enterprise of Riverside, Calif. Earlier this year, job cuts in the hundreds also rocked seemingly bedrock bastions, including the New York Times, Los Angeles Times, Baltimore Sun, and Florida's St. Petersburg Times. A map of the epidemic reports an estimated 14,000 buyouts and layoffs at U.S. newspapers — just this year.
So why chronicle the morbidity of newspapers on this, the website of a science magazine? Throughout our 87-year history, we've probably been more newspaper-like than any U.S. science publication. Science News actually owes its birth in 1921 to a newsman's desire to help colleagues at daily papers find and disseminate important research developments to the public. Our magazine's guiding mission remains "to promote the public understanding of science."
Many of the recently jettisoned reporters had covered science, medicine, environment, biotechnology, and research-policy issues — even if only part-time. As newsrooms shrink, editors aren't going to turn a sports, city-council or business reporter over to cover a science story. Although you and I know better, newspaper editors tend to consider science and engineering to be niche fields — that is, expendable.
Subscribe to Science News
Get great science journalism, from the most trusted source, delivered to your doorstep.
Even where coverage of research and development got the respect of editors, it might not continue to do so for much longer. To wit: a colleague at CNN noted that this cable network axed its entire Science/Tech/Environment news team today.

Everywhere, in every medium, news managers are looking to amputate what they see as expendable drains on their bottom line so that coverage of local news and politics can survive.
Although hard to quantify, there has to be at least subtle fallout for science reporting from this downturn in the news economy. (Ironically, some of the Gannett papers that shed news gatherers this week had turned a third-quarter profit of 40 percent or more. It was just not enough, I guess.)
Science stories won't disappear. They might just become shorter, more superficial or less balanced.
Many will be carried online by sites that collect content from others–sometimes without permission or attribution to the original sources. These are sites that don't generate original material; they just post press releases (which, by their nature, are anything but objective) or abstracts of news reports by others (without links to the original sources). In other words, these sites cannibalize the work of reporters.
I happened to mention the practice, this afternoon, while speaking with a fish researcher. And she volunteered that she had witnessed an example of this first-hand. After I last wrote about her work, several months ago, she decided to look for a copy of my story online. So she googled it — and did find the piece, but only after first wading through snippets of my story that appeared "often without attribution" in posts on other sites. "That's got to be frustrating," she said.
Indeed it is. Because these vampires are sucking the lifeblood out of legitimate journalism. News writing is expensive, not only in a reporter's time (salary), but also in other resources, which may include travel or perhaps phoning a researcher for an hour in Omaha — or Ho Chi Minh City.
That's why I'm hoping readers pay attention to where their news is coming from. Is it pirated from another source or does it reflect original, time-consuming reporting? (Believe me, even a three-paragraph news snippet can take hours to develop.)
Our founding fathers considered news so important to our society that they wrote in constitutional protections for news gatherers. They realized that people can't make informed decisions on what they want their government or others to do without information about those who perform good or bad deeds. News gatherers are professional scouts and watchdogs. We shine a light on dark corners. We pull disparate developments together to highlight trends. And we let people see and hear the voices of those outside their communities.
I worry that the bloodletting in our industry is getting so serious (and, naturally, focused on the most experienced — highest paid — individuals) that we could lose a generation of our best news gatherers. And as we all know, it's hard to hurry experience. It just comes in its own good time.
So when someone describes a new development as being the first, best, cheapest, longest-lived, most rugged, or some other superlative, will you be able to trust that assessment? Reporters know how to vet such claims — and experienced ones know what caveats to include.
Bottom line: Seek out quality journalism on science (and everything else). And please, steer clear of vampires.