Cell biologists learn how Zika kills brain cells, devise schemes to stop it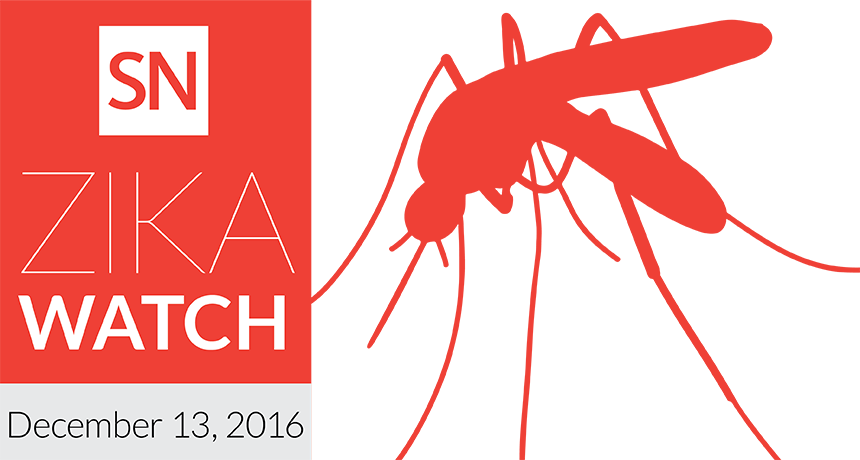 SAN FRANCISCO — Cell biologists are learning more about how the Zika virus disrupts brain cells to cause the birth defect microcephaly, in which a baby's brain and head are smaller than usual. Meantime, several strategies to combat the virus show preliminary promise, researchers reported at the American Society for Cell Biology's annual meeting. Among the findings:
Brain cell die-off
Zika causes fetal brain cells neighboring an infected cell to commit suicide, David Doobin of Columbia University Medical Center reported December 6. In work with mice and rats, Doobin and colleagues found suggestions that the cells' death might be the body's attempt to limit spread of the virus.
Science News headlines, in your inbox
Headlines and summaries of the latest Science News articles, delivered to your email inbox every Thursday.
Thank you for signing up!
There was a problem signing you up.
The researchers applied techniques they had previously used to investigate a genetic cause of microcephaly to narrow when in pregnancy the virus is most likely to cause the brain to shrink. Timing of the virus's effect varied by strain. For one from Puerto Rico, brain cell die-off happened in mice only in the first two trimesters. But a strain from Honduras could kill developing brain cells later into pregnancy. Microcephaly can lead to seizures, mental impairment, delays in speech and movement and other problems.
Enzyme stopper
Disrupting a Zika enzyme could help stop the virus. The enzyme, NS3, causes problems when it gloms on to centrioles, a pair of structures inside cells needed to divvy up chromosomes when cells divide, Andrew Kodani, a cell biologist at Boston Children's Hospital reported December 6.
Subscribe to Science News
Get great science journalism, from the most trusted source, delivered to your doorstep.
Zika, dengue and other related viruses, known as flaviviruses, all use a version of NS3 to chop joined proteins apart so they can do their jobs. (Before chopping, Zika's 10 proteins are made as one long protein.) But once NS3 finishes slicing virus proteins, the enzyme moves to the centrioles, where it can mess with their assembly, Kodani and colleagues found. Something similar happens in some genetic forms of microcephaly.
A chemical called an anthracene can help fend off dengue, so Kodani and colleagues tested anthracene on Zika as well. Small amounts of the chemical can prevent NS3 from tinkering with the centrioles, the researchers found. So far the work has only been done in lab dishes.
Protein face-off
Another virulent virus could disable Zika. Work with cells grown in lab dishes suggests a bit of protein, or peptide, from the hepatitis C virus, could muck up Zika's proteins.
The peptide interferes with HSP70, a protein that helps assemble complexes of other proteins, including ones involved in protein production. That peptide and other compounds were already known to inhibit hepatitis C replication, UCLA virologist Ronik Khachatoorian and colleagues had previously discovered. The hepatitis C virus peptide stops Zika virus proteins from being made and hampers assembly of the virus, Khachatoorian reported December 5.
The peptide has not been tested in animals yet.